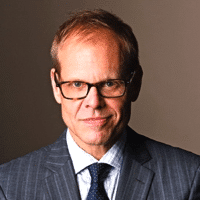 Food Network's "Good Eats" host Alton Brown will be taking a pit stop in Kansas City this coming January for one leg of his Alton Brown Live! The Edible Inevitable tour. With a personality that packs a punch and a quirky sense of humor, most Food Network fans can agree Alton Brown is anything but ordinary—so why should his tour be any different. "Be Prepared…" read the event listing on the city's website, "Ponchos will be involved." Far from a typical cooking demonstration or Q&A, this full blown on-stage performance will consist of 'stand-up comedy, food experimentation, interactive cooking demonstrations, talk show antics, multimedia lecture and even live music.'
Audience participation is a must and attendees will be called up throughout the evening as culinary assistants—just be ready if you volunteer; there is no turning back and things could definitely get messy!
Winning the James Beard Award for 'Best TV Food Personality' back in 2011 and partnering with reputable brands such as Welch's, GE, Cargill and Dannon for various campaigns, commercials and endorsements, Alton has been a constant presence in both the culinary and commercial spaces for years. Brown has served as a mentor on 'The Next Food Network Star' alongside Giada De Laurentiis and former Iron Chef Bobby Flay and was also the expert commentator for 'Iron Chef America' providing the culinary play-by-play with Kevin Brauch as his fellow kitchen reporter.
Want to bring some humor and culinary quirk to your next event or campaign?
Contact booking@celebritychefnetwork.com or call us at 888.864.4734 for more information on celebrity chef cooking demonstrations, endorsements, appearances and cookbook signings