Celebrity Chef Network can connect you with the best celebrity chefs for hire in the $20,000 – $50,000 budget range!
We all know top celebrity chefs make wonderful motivational speakers and event entertainers. They create a fun dynamic, a festive atmosphere, offer thoughtful insight, and are familiar faces that people gravitate towards. You may think, then, that you should go for gold and hire the most well-known celebrity chef out there, but not so fast. Those millionaire celebrity chefs are expensive to book, and maybe you don't have $100,000 to spend on talent. We like the idea of going to a middle ground: hire a celebrity chef with celebrity chef appearance fee $20,000 – $50,000 who's recognizable, experienced, and excited to work with you!
Recently, we've worked with a bunch of these celebrity chefs. We booked chefs for celebrity chef speaking events, as well as celebrity chef live demos. Each of the events was fun and inspiring, and we think everyone should have these wonderful talents on their shortlist. Not only are they excellent personalities, they're affordable! Each falls within a $20k-$50k price range. Booking a celebrity chef like this is a great idea. You'll get a great talk at a great price.
Below are some irresistible chefs you should consider for your event with celebrity chef appearance fee $20,000 – $50,000: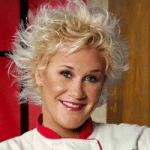 Anne Burrell: This popular celebrity chef is likely a face you know well. Burrell is a spiky peroxide blond with a fun personality to match. An old hand on the Food Network, Burrell is a pro at poise and professional speaking, while remaining real. Burrell's written a cookbook, and her first restaurant just opened in Brooklyn to rave reviews. Down to earth, energetic, and real, Burrell brings a warm, entertaining aspect to your event.
Amanda Freitag: Classically trained, refined, and familiar, Freitag is a face you probably know as a regular on the Food Network and Bravo's Top Chef. Freitag has studied with world-renowned chefs like Alain Ducasse and Jean-Georges Vongerichten, so she can add an element of definition, tradition, and discuss what it's like to then venture out after expert tutelage. Freitag is a cookbook author and she was recently Executive Chef at the famous Empire Diner in New York. Working in the establishment, maintaining tradition, and building a career are areas Freitag can speak to well.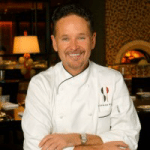 Stephan Pyles: This veteran of the cooking industry has been a big name in Texas for decades. Pyles has created 22 restaurants in five cities, and he worked his way up from his first job as a busboy. The James Beard Award winner for Best Chef makes modern, delicious southwestern food. He's known as the forefather of southwestern cuisine. For a chef who's experienced, understands the franchise ins and outs, how to run a conglomerate, as well as willing to rethink the traditional, Pyles is your man.
All of these famous chefs for hire fall in the range of $20,000 – $50,000 fee range per event depending on the location and scope of work on-site.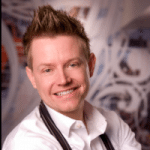 Richard Blais: Another Top Chef alumni, Richard Blais made a name for himself when he won his season of the show. With a presence first in Atlanta, now, Blais is making waves in Southern California. From burgers to refined cuisine, Blais has his hands in several restaurants. He's also a cookbook author, and a personality on the Food Network, where he makes regular appearances as a guest judge and show host. Funny, down to earth with a sophisticated edge, Blais isn't afraid to do something new. As long as it's done well! Blais is one of the most engaging and exciting chefs on the appearance circuit.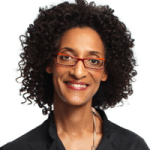 Carla Hall: What fun is Carla Hall? If you already watch The Chew, you know she's funny, kind, and passionate. Hall is also a Top Chef favorite, cooking healthy food with love. Wonderful on stage, Hall makes for an engaging event. She's also been formally trained in French cuisine, which she mixes with her southern roots. Hall is a speaker who makes her mark. Adding cookbook author to her already extensive resume, Hall is a natural celebrity chef speaker. Her ability to find passion and positivity in all she does makes her one of our favorite chefs for hire.
Celebrity Chef Network will help you book celebrity chefs in your budget range of $20,000 – $50,000 based on your specific event needs.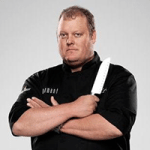 Beau MacMillan: Beau Mac has a different background than other chef. He didn't compete on Top Chef, and he's mostly focused on his two restaurants, element and Sanctuary at Camel Back in Phoenix. MacMillan brings his point of view to the table, with local food sourced from artisans. Still, MacMillan's a television regular, appearing on The Next Iron Chef and a co-host on Worst Cooks in America. He's a seasoned culinary vet with a huge personality! MacMillan is great if you're looking for a down-to-earth celebrity chef with his own tasteful twist on classic American cuisine.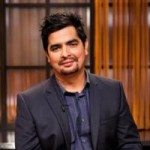 Aaron Sanchez: Food Network personality Aaron Sanchez heats up New Orleans with his modern and chic Mexican food, invoking a fine taqueria. Sanchez believes in preserving his heritage and including it in his cooking endeavors. Sanchez is not just a restaurant owner. In addition, he's also a television regular judge on Chopped as well as a cookbook author. Sanchez's approach to food creation is a deep commitment beyond the ingredients.
Celebrity Chef Event Execution:
Event ideas for these chefs include Q&A sessions, in which audience members can address their own agendas, as well as have influence on the information that's being exchanged. A panel with the above group of chefs would make for a fascinating event. With such different backgrounds, goals, and specialties, you can get a variety of perspectives to create an honest and well-rounded discussion. Cooking demonstrations are the most fun, allowing your celebrity chef to bring their cooking skills to life for your audience. Finally, consider meet and greets. People love to talk to them, learn about their lives, or just say hello.
With so many options, why wouldn't you hire one of these incredible chefs? We have a whole roster of celebrity chef speakers, and when you call a chef talent agent, together you'll find the perfect speaker for your event. Rest assured, at our chef talent agency, we'll help you design a dynamic event so your speaker shines, all with an affordable price tag. So call us today to hire a famous chef!