A lively Celebrity Chef cooking demonstration from Robert Irvine and celebrity chef appearances from a few of his famous pals helped make the first annual Savor: A Celebration of Wine, Food & Spirits a tasty success!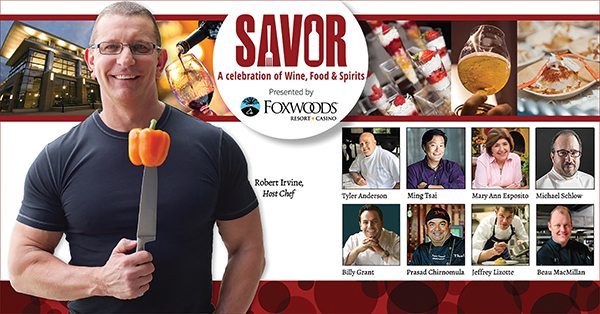 Has your organization been chewing over the idea of hosting a food festival or Celebrity Chef cooking demonstration? The overwhelming success of Foxwood Resort Casino's first annual Savor: A Celebration of Wine, Food & Spirits should be your cue: the time has come to organize your own foodie fantasy!
First, let's set the table.
Celebrity Chef Robert Irvine is no stranger to foodies around the world since becoming one of the Food Network's most prominent personalities. In addition to his annual live cooking tour and TV series, Robert loves to mix it up at events such as this fine food festival in Hartford, Connecticut over the weekend. Muscle Man was chosen as the grand Celebrity Chef host of the Savor event with part of the proceeds benefiting his Robert Irvine Foundation for military families.
The 2-day food event was held on a Friday and Saturday last week, April 10-11. Holding your event on a weekend helps keep scheduling conflicts to a minimum for Celebrity Chefs filming TV shows during the week. This mouth-watering adventure came complete with a charity gala, grand tastings and a Chandon Bubble Lounge.
The Savor Kitchen Demonstration Stage was ground zero for exciting Celebrity Chef cooking demonstrations from Mary Ann Esposito, Ming Tsai and of course Mr. Irvine. Grand tastings are a great way to give your entire guest list a chance to watch their favorite Celebrity Chefs for hire whip up delectable treats in live action.
Saturday's charity gala was the perfect way to help raise money for Irvine's foundation. Partnering with a Celebrity Chef with charity ties can present new opportunities for charity partnerships that add to the interest and success of your event.
Now, let's dig in!
Celebrity Chef Network can help you hire a Famous Chef for your food festival, trade show or similar event. We have experience working with industry-leading companies in booking Celebrity Chefs like Robert Irvine, Carla Hall, Tom Colicchio, Aaron McCargo Jr. and many others. If you are not sure who would be the best fit for your event, we'd love to help you narrow your search!
In addition to speaking with a representative about potential chefs for your event, you can consult our online database of popular Celebrity Chef personalities for hire. If you are interested in hiring a Celebrity Chef who is not listed on our site please feel free to email us to check availability and pricing for that chef!
Here at Celebrity Chef Network we aim to serve. Contact us at (212)410-9879 or email us at booking@celebritychefnetwork.com to discuss opportunities your organization may have to hire a Celebrity Chef for your upcoming food festival, trade show, fundraiser or endorsement opportunity.