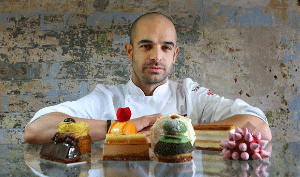 Media Release by Mark Devlin (circle me on Google +) of Auckland Public Relations Company Impact PR: Renowned patissier Adriano Zumbo – famous for his divinely flavoured treats and unique flavour combinations – has teamed up with Vicks to launch VapoNaturals™ – testament to his belief that all things should taste great, even if you are feeling under the weather!
New Vicks VapoNaturals™ is a range of naturally flavoured throat drops that brings together both taste and effectiveness in one yummy drop to coat dry itchy throats. Don't like medicinal-tasting throat lozenges? With three delicious flavours, Vicks VapoNaturals™ help you get through the cold and flu season – without hindering your taste buds.
Frolic into some fruity fun with Cherry Menthol Vicks VapoNaturals™, or if you're a traditionalist at heart, channel what your Gran would have made with love with Lemon Menthol and Honey Vicks VapoNaturals™.
Zumbo says he is excited to see a product that blends delicious flavour combinations and effectiveness in the one tasty drop that coats your throat.
"I always strive to offer a unique range of delicious treats at my patisseries and taste is such an important factor. When it comes to throat drops you're usually hit with a strong medicinal taste, but with the new Vicks VapoNaturals you have the choice of three great unique flavour combinations," says Zumbo.
"I'm lending my support as I believe your taste buds shouldn't have to suffer when your throats are feeling dry and itchy" says Zumbo.
Vicks VapoNaturals™ Spokesperson, Candice Glynn, says to have someone of Zumbo's status lend their support to the new range is a hugely exciting opportunity.
"With his outstanding reputation as a patissier, Adriano Zumbo's creations embody great taste and unique flavour combinations – which is exactly what Vicks VapoNaturals is all about, along with offering Kiwis an effective throat drop to coat dry, itchy throats during the cold and flu season and beyond," says Glynn.
Vicks VapoNaturals™ (RRP from $3.99) are available now from leading supermarkets nationwide.