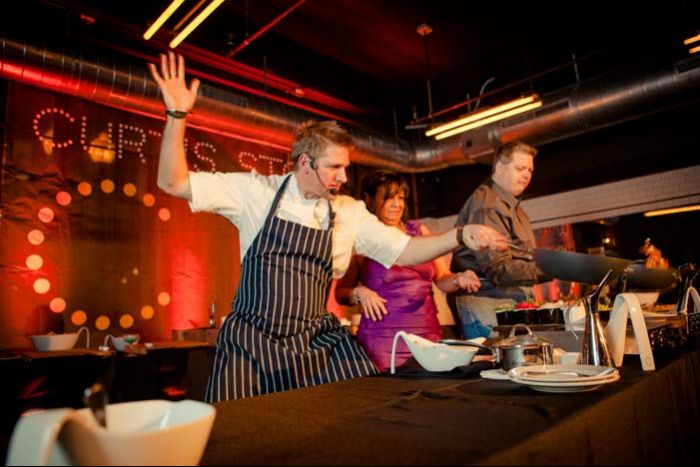 Thousands of trade shows, corporate outings, non-profit fundraisers and many other special events utilize Celebrity Chefs to excite their crowds, build brand awareness and/or generate donations. The world of celebrity chefs has exploded thanks to the evolution of the Food Network and so many of their stars including Bobby Flay, Giada De Laurentiis, Alton Brown, Aaron Sanchez, Guy Fieri, Rachel Ray and many others.
The power of television regarding Celebrity Chefs flies in the face of so many other genre of celebrity endeavors. Celebrity Chefs have great social media influence but there is nothing like well shot television to make your mouth water when Marcus Samuelsson, Amanda Frietag or Anne Burrell are cooking up some sumptuous meal fit for a king for a live audience.
So now it's time to hire a famous chef for your event. You could try and work your way through the booking process yourself, but why not hire a Celebrity Chef Speakers Bureau to be your guide? A Celebrity Chef Speakers Bureau like Celebrity Chef Network can help by establishing an avenue for companies, events or agencies to interact with a knowledgeable Celebrity Chef booking agent with many years experience booking all of the top, famous and best celebrity chefs.
Celebrity Chef Network has a database with thousands of Celebrity Chef booking fees for great personalities from Curtis Stone to some of the best young up and coming chefs that are building reputations and skills that will wow your guests! Your ability to hire a Celebrity Chef has never been easy regardless of the price range from the cheapest Celebrity Chef to booking a global celebrity chef like Nigella Lawson, Emeril, Jamie Oliver or the #1 celebrity chef in the world Gordon Ramsey. Celebrity Chef Network has a staff of booking agents with experience in Celebrity Chef speaking engagements, cooking demonstrations, cooking competitions or setting up a cooking theater where the best in the world display their skills!
If you are searching for a Celebrity Chef booking agent, Celebrity Chef fees or how to hire a Celebrity Chef for any execution, Celebrity Chef Network is your #1 booking agency in the world. Call us today at (212)410-9879 or email us at booking@celebritychefnetwork.com to discuss booking options for your next event!