The bright lights and beautiful beaches of Miami played host to the 2014 South Beach Wine & Food Festival that sizzled from last Thursday through the weekend. The 4-day festival took on a fast-paced, party-like atmosphere that saw Michael Symon and other celebrity chefs play volleyball with Sports Illustrated swimsuit models, Paula Deen ride Robert Irvine like a pony, and the industry's top celebrity chefs dish out their culinary knowledge and good eats to festival goers.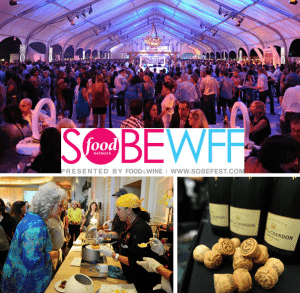 The festival, sponsored by Food Network and presented by Food & Wine magazine, began Thursday with a charity volleyball game featuring SI swimsuit models and celebrity chefs that raised over $20,000 for the Armed Forces Foundation. After the game, Michael Symon hosted Moet Hennessy's The Q event, cooking alongside over 40 of the nation's top celebrity chefs under tents on the beach, making the perfect dishes to accompany the exquisite cocktails from Moet Hennessy's menu. Friday began with a celebrity golf tournament held by Celebrity Chef Jose Andres and ended with several special dinners hosted by culinary greats Anthony Bourdain, Eric Ripert, and Michelle Bernstein. A fan-favorite and Friday's main event was Rachael Ray's Burger Bash. Bobby Flay walked away with the Burger Bash title last year, but the Iron Chef's absence this year allowed Michael Symon to secure his fourth title with his "Fat Doug Burger", a beef burger decked with pastrami, Havarti cheese and coleslaw.
The annual event is not all libations and tasty food as Saturday morning kicked off with an indoor fitness bike ride with celebrity chef Ingrid Hoffman and others to burn off the excess calories gained from the week's events. Saturday and Sunday were highlighted by the Whole Foods Market Grand Tasting Village that hosted a number of cooking demonstrations and grand tastings from a number of celebrity chefs including Trisha Yearwood and Giada de Laurentiis, and exquisite cuisine at more dinner parties with the likes of Chef Emeril Lagasse and Andrew Zimmern. While Paula Deen hosted a show with celebrity chef sons Jamie and Bobby Deen on the main stage at the Village, Robert Irvine joined the set and carried Paula across the stage on his back as she claimed she was back in the saddle of the culinary world. Later that evening The Chicken Coupe event, hosted by Andrew Carmellini, celebrated America's latest obsession of fried chicken coupled with bottles of bubbly.
The weekend wrapped up Sunday night with the 3rd annual Munchies: People's Choice Food Awards and the possibility to enjoy some of the finest wines and dines of the year as voted by the public. With hangovers and food comas aplenty left in the wake of Miami's biggest food and wine festival, the party will continue when the next festival hits the vacation hotspot Riviera Maya in Cancun this March.
Contact Celebrity Chef Network today for more information on celebrity chefs from the 2014 South Beach Wine & Food Festival or to hire celebrity chefs for cooking demonstrations, endorsements, appearances and cookbook signings. Contact us through our contact form or by email: booking@celebritychefnetwork.com.