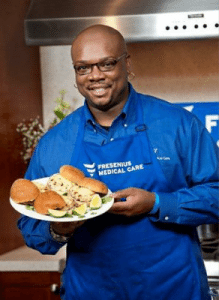 Fall and football go together like tailgates and good eats, which is exactly what Celebrity Chef Aaron McCargo, Jr. will bring to local dialysis patients in multiple cities this fall. Partnering with the Fresenius Medical Care North America (FMCNA), Chef Aaron is visiting FMCNA clinics in five cities to share tips and recipes for healthy tailgating meals. Providing kidney-friendly recipes to dialysis patients and their families helps keep the spirit of the tailgate alive and cheer on their hometown team.
Chef Aaron, the winner of season four of Food Network's hit TV show The Next Food Network Star, will work alongside FMCNA dietitians at the following events that are free and open to the public. The five-city tour includes:
San Diego, CA, Sept. 6
Columbia, S.C., Sept. 12
Memphis, TN, Sept. 25
Pittsburgh, PA, Oct. 18
Houston, TX, Oct. 22
Chef Aaron's sauce-less barbeque baby back ribs, turkey chili, honey-chipotle chicken and lime and smoked mozzarella turkey burgers are just a few of his dishes that will be on display and for sample by event goers. Of course since dialysis patients have to limit their intake of phosphorus, potassium, salt and saturated fats, these recipes focus on helping to keep food from becoming bland with kidney-friendly seasonings like ginger and cayenne pepper.
FMCNA found the perfect partner in Chef Aaron, who is known for not only focusing on the cooking of the dish itself, but time spent with the ones you're cooking with. He feels that half the fun of cooking is getting to work alongside a family member or friend and spending quality time together while creating simple and delectable meals. His show on Food Network, Big Daddy's House, continues to be a success and further his philosophy of bold flavors and big smiles in the kitchen.
More information on Chef Aaron's tailgate tour such as demonstration videos and kidney-friendly recipes can be found at www.ultracare-dialysis.com as well as tips and other information for patients about how to maintain a healthy lifestyle. They offer five tips for easy, healthier tailgating including remembering all the plates and ice and extra stuff that accompanies the tailgate food and sticking to low-stress recipes that keep the focus on each other and the game and not the food preparation. Reading food labels helps to keep bad ingredients from making their way to the table and by making food ahead of time in individual servings that helps proportion the food for everyone and prevent overeating. The last tip was to choose salt-free snacks like homemade tortilla chips that provide a healthy snacking option.
Contact booking@celebritychefnetwork.com or call us at 888.864.4734 for more information on celebrity chef cooking demonstrations, endorsements, appearances and cookbook signings.