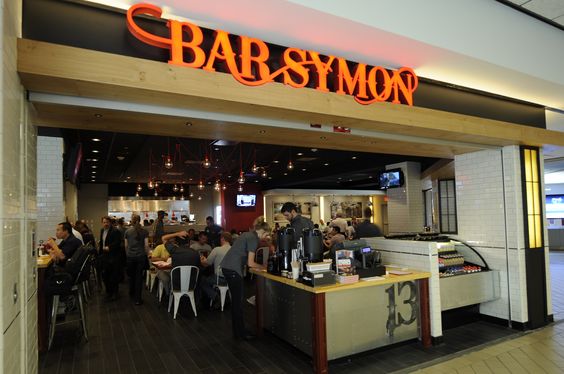 More and more airports are looking for different ways to entertain travelers during their layovers or while waiting for a flight. Although it seems like an unlikely scene, a chef for hire for pop-up restaurants in airports are becoming wildly popular.
At Celebrity Chef Network, we are experienced in booking celebrity chefs. We've worked with unique venues and a wide range of brands and companies, to help them gain valuable publicity, media attention, and to make any event truly distinctive and memorable. Our celebrity chef booking agents understand the importance of finding top talent to make your event truly unforgettable.
In this article, we explore why innovative airports are booking celebrity chefs across the globe to entertain their clientele and stand out from other competing airports.
Celebrity Chef for Hire at Pop-Up Restaurants at International Airports
Imagine you're walking through an airport. You're trying to find your gate, and all of a sudden you run into a Michelin star pop-up restaurant. That's exactly what travelers in Denmark found this summer after one airport tried something different.
Three Danish Chefs, Thomas Rode, David Johansen, and Mikkel Marshall gave travelers a taste of Danish summer. Each chef worked their magic at the Copenhagen Airport, composing different tasting menus inspired by the Nordic summer. Each team took their own take on what a Nordic summer meant to them. For example, Thomas Rode served food based on local products in a genuine Paleo style. David Johansen opted for classic Danish dishes.
With innovation and unrelenting work ethic, the Danish are looking to put their country on the map. By choosing a top celebrity chef for hire, Copenhagen Airport found a way to entertain a wider group of visitors.
Other international hubs are starting to take note of the increasing popularity of pop-up restaurants. On Restaurant Day last August, Helsinki hosted pop-up versions of local dining joints in four sites around its airport. Additionally, London's Heathrow was the home of a pop-up ceviche restaurant. A pop-up restaurant is always a crowd pleaser. More importantly, it's an excellent way for clientele to see a celebrity chef for hire in action.
American Celebrity Chef for Hire
The widespread popularity of pop-up restaurants internationally has become more and more popular in the United States. America is transitioning into a foodie culture and travelers are subsequently demanding better options.
Long gone are the days of greasy pizza and tacos at the airport. Instead, savvy travelers are going to restaurants that have a celebrity chef name attached to them, such as Michael Symon, Jamie Oliver, Gordon Ramsay, Mike Isabella, Cat Cora, Carla Hall and Rick Bayless. Airports have responded by trying to make the travelling process a bit easier and more relaxing. They offer unique entertainment and creating more memorable experiences like these pop-up restaurants located in various terminals.
Why Booking a Celebrity Chef is Popular
Airports are quite motivated to find pop-ups for their hub. They have a set percentage of total sales for all concession operations. Consequently, an increase in sales generated by pop-ups also produces an increase in revenue for the airport.
Especially during the busy holiday season, airports are looking for a celebrity chef for hire to offer interactive experiences inside their terminals. Booking a top celebrity chef offers new ways to capture the attention and funds of happy, eager-to-spend travelers.
How To Book A Celebrity Chef and Celebrity Chef Fees
By working with a celebrity chef booking agent, airports can book top celebrity chefs for an appearance or pop-up restaurant. By utilize top celebrity chefs, including Art Smith, Mike Isabella, Wolfgang Puck, Cat Cora, and Lidia Bastianich, companies and brands can create awareness, attract media attention, and gain valuable publicity. If you are in need of hiring a celebrity chef, it's worth noting that celebrity chef fees will vary on a number of different factors.
Contact Celebrity Chef Network for Booking a Celebrity Chef
At Celebrity Chef Network, we help you organize your event and find you a celebrity chef that fits your needs. A celebrity chef booking agent will work with you when it comes to the various celebrity chef fees, as we have built close relationships with some of the top chefs in the nation. Our experienced celebrity booking agents will find you a top chef for hire who will fit perfectly with your event.
Contact Celebrity Chef Network today to see how we can help you plan your next celebrity chef appearance, pop-up restaurant, or speaking engagement. As your #1 resource for the top booking chefs, we'll be happy to work with you throughout the entire process to make your event truly unforgettable. Furthermore, our connections with the top celebrity chefs available for events will help you come to a quick conclusion in terms of who is the best chef to hire for your event. Ultimately, we save you time and money!