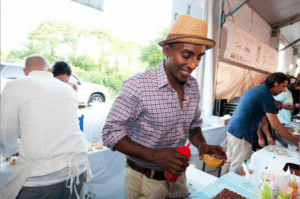 Life is good in the Hamptons. Even if you're simply the business behind the mainstay paper dropped on everyone's doorstep each morning. Dan's Paper of Manhattan Media will again donate its namesake to the 4th annual Dan's Taste of Two Forks Festival celebrating culinary genius from the north and south forks of Long Island. Celebrity Chefs, sponsors and foodies from across the U.S. are set to converge on Sayre Park from July 11-12 for a weekend of taste-bud overload packed full of fine wines and delicious eats. In true East End fashion, the overwhelmingly popular summer soiree has boasted some of the cooking industry's top names to host its weekend festivities from Marcus Samuelsson in 2011 to Jean Georges Vongerichten and most recently Bobby Flay in 2013. The star power will double this year to feature 2 popular celebrity chef personalities Geoffrey Zakarian and Katie Lee as co-hosts of the weekend's revelries. The hosts will be joined by Restaurant Impossible's Robert Irvine who will be in charge of the second annual Grillhampton grill-off set to kick off the weekend Friday night.
Irvine's fan-favorite grill competition pits Manhattan's finest grill masters against the Hamptons' stout repertoire of food preparers. Team Hamptons is looking to defend their title this year and the consistently sold out event is sure to deliver the perfect combination of relaxation, exciting competition, and some of the best food creations you'll ever try in your life. On hand to judge the event will be a panel of food experts and familiar faces including James Beard Award winning chef David Burke, Food network personality Marc Murphy, and NYC's premiere butcher Pat LaFrieda. Saturday will be spent with Zakarian and Lee amidst the tents of the Taste of Two Forks event where over 40 restaurants and other vendors will set up kitchen along with Long Island's most talented chefs to provide festival goers with an array of tasty bites and pours.
Chef Zakarian has put together an incredible resume as a restaurateur and regularly appears as a guest judge on Chopped alongside a handful of other great culinary minds including Scott Conant, Alexandra Guarnaschelli, Amanda Freitag and Aaron Sanchez. He now acts as a co-host with Katie Lee on Food Network's The Kitchen where the two join fellow cooking industry leaders Jeff Mauro, Marcela Valladolid and Sunny Anderson to whip up tasty recipes for viewers. Katie Lee has found success in the industry after becoming a well-liked cookbook author and food critic whose ex-husband just so happens to be American music icon Billy Joel. Katie publishes a culinary and lifestyle column in the Hamptons magazine distributed weekly to residents so she will likely receive a very warm reception when she first hits the stage in July. This exciting weekend event provides guests the opportunity to rub shoulders with both celebrity chefs and some of the areas greatest culinary minds while kicking back and enjoying the best food and wine Long Island has to offer. This weekend in July is definitely a must for any foodie traveler and quite an enjoyable weekend as well for the celebrity chefs booked to host the event!
Contact Celebrity Chef Network today to hire a celebrity chef for cooking demonstrations, endorsements, appearances and cookbook signings. Contact us through our contact form or by email: booking@celebritychefnetwork.com