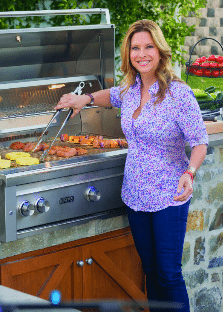 Popular hot sauce brand Cholula is planning to put a little more kick in their 2014 advertisement campaigns when they team up with international celebrity chef, author, and TV personality Ingrid Hoffmann. The Colombian native is the current host of the cooking shows Simply Delicioso on Food Network and the Cooking Channel, and the all Spanish-speaking show Delicioso on Galavision/Univision. Her distinctive cooking style of Latin American flair coupled with entertainment spices up the everyday dish in homes across the world and mixes well with the growing resurgence of the public's use of hot sauce. Now as an industry leading brand, Cholula hopes a celebrity spokesperson will further expand its reach in the market.
This is the next step in the culinary career of the talented Chef Ingrid whose enthusiasm in the kitchen and impressive knowledge of ethnic flavors make her a great candidate for Cholula. Several other Latin American chefs have already partnered with companies to produce their own line of prepared food and recipes including Marcela Valladolid's prepared dishes with Safeway and Jose Andres and his various products featured in Whole Foods. Nowadays celebrity chefs are finding any way to further their own personal brand through different product channels as evident by the incredible market reach that celebrity chefs like Emeril Lagasse and Bobby Flay have perfected over their years in the industry. Ironically enough, Guy Fieri has a new campaign with Rolaids that is currently circulating through several different marketing channels. The fact that the cooking industry can have simultaneous campaigns for hot sauce and digestion relief is a prime example of the wide spectrum of marketing opportunities for celebrity chefs that are associated with the culinary arts. Cholula is prepared to utilize Ingrid's culinary genius to develop exclusive Cholula recipes involving all the Cholula flavors as well as demonstrate the uses of the different hot sauces in a series of webisodes published on their company website. Ingrid will also help launch a new digital campaign in which she will provide cooking advice called "Chica Tips" to support the brand with posts on all of their social media channels.
With this deal, Ingrid isn't getting her own line of signature prepared food, products or cookware like we've seen in the case of other popular chefs like Aaron Sanchez, Aaron McCargo, Jr., or Giada De Laurentiis. However what makes this partnership in the kitchen a good recipe for Ingrid is the fact that Cholula's popularity will help to familiarize her name to all its consumers and she will be able to build an even larger fan base of home cooks. This Cholula partnership also comes after she recently partnered with Univision, Home Shopping Network, and a top cook and tableware manufacturer Gibson to create her own signature line called Simplemente Delicioso. It seems the world will be seeing a lot more of Ingrid Hoffmann in 2014 and her partnerships with industry leading companies is the next step in becoming one of the world's most recognized celebrity chefs.
Contact us through our contact form, by email: booking@celebritychefnetwork.com or call us at 888.864.4734 for more information or to hire celebrity chefs for an ad campaign, cooking demonstrations, endorsements, appearances and cookbook signings.