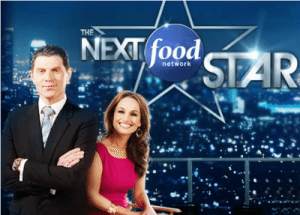 For the Ninth season, the home of such iconic food shows as Chopped, Iron Chef America and Diners, Drive-ins and Dives will roll out the welcome carpet again for the 9th season of Food Network Stars.   Food Network has booked Celebrity Chef and TV stars Bobby Flay, Giada De Laurentiis and Alton Brown will lead the charge as hosts of the newest season's fun and cooking adventures.    What could be more American than 12 no name chefs dying for the right to be titled a Celebrity Chef, get paid and have their own TV show on Food Network!   As Celebrity Chef and NY Times Best-selling Author, Alton Brown might say, "A Proverbial culinary Kardashian Event".
June 2 is the season premiere on Food Network as the wanna-be Celebrity Chefs with the passion for food and the desire to be rich and famous with their own show on Food Network, converge on the City of Angels, Los Angeles California to battle for the rights to be named, The Next Food Network Star.  Scripps and Food Network executives Susie Fogelson and Bob Tuschman have gotten it right more than they have missed with new shows and talent.  There will never be another Emeril Lagasse or Mario Batali but Guy Fieri and Paula Deen are far from second rate.  The viewing public always loves a good cook-off with challenges, prizes and surprise Celebrity Chef guests to boot!  This season with provide viewers of the Food Network's show wild twists and turns, fan interaction via "focus groups", their version of Redemption Kitchen Island where one participant will get voted off and brought back with a new chance to win the coveted prize of being Food Network's next star.
"Alton (Brown), Bobby (Flay), Giada (De Laurentiis) are not only enduring stars, bit also star-makers, so they are the ideal mentors to bring out the best in our talented cast" said Bob Tuschman, General Manager and Sr. VP at Food Network.   It sounds to me like there are high expectations on this year's list of Celebrity Chef soon to be's!    Check out this season's obstacle course for the hopeful Celebrity Chefs in training:  Chopped Veteran and the author of the newly printed Cookbook by Food Network, Alex Guarnaschelli paired with an on-camera test with E! News' co-anchor Terrance Jenkins (can anyone else smell a cooking show and cookbook for Terrance),  a product placement by Buitoni pasta products and Kelloggs Special K Cereals and Snacks, a screening evaluated by several execs and staffers at The Hollywood Reporter and some special celebrity chef booking surprises including Food Network's bad boy himself, Guy Fieri and Mr. Rip it up, tear it down and rebuild it, Chef Robert Irvine!
The Next Food Network Star's alumni list is a pantheon of all-star Celebrity chefs and TV stars who have been booked for PR campaigns, endorsements, TV commercials, cooking demonstration, trade show, women's show, personal appearances, speaking engagements, charity events, fundraisers, media tours, etc., including:  Aarti Sequeira, Melisa d' Arabian, Aaron McCargo, Justin Warner, Guy Fieri, The Hearty Boys and several others.
For your next Celebrity Chef booking, contact booking@celebritychefnetwork.com or call us at 888.864.4734.