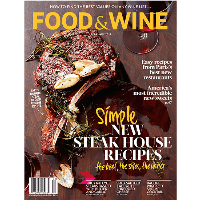 Food & Wine magazine has long been a hub for all things cooking from recipes and chef news to restaurant reviews and now they are going to align themselves even closer with celebrity chefs of today. The magazine has recently announced that they will utilize the culinary minds of Mario Batali, Grant Achatz, Hugh Acheson, David Chang, Andrew Zimmern and Eric Ripert in a new feature dubbed Chefs in Residence. The feature will chronicle each chef's unique travels and give readers a more in-depth view into the way their favorite celebrity chefs live. It will be illustrated by the seemingly jack of all trades chef and TV personality Anthony Bourdain.
The first content will appear in the February issue which will also showcase Food & Wine's new design since becoming a part of Time, Inc., in October of last year. The magazine's Best New Chefs list, now in its 25th year, is among the most revered chef lists of the year and can generate buzz for lots of young chefs such as 2013's top Best New Chefs Danny Bowien, Michael Voltaggio, and Jason Vincent. Editor-in-chief Dana Cowin is focused on extending the connection and interaction between her publication and celebrity chefs citing that the readers have, "an insatiable interest in everything about these chefs." Food & Wine hopes to provide another avenue for their audience to connect with celebrity chefs aside from TV sources such as Food Network or the Cooking Channel by keeping their print publication of the magazine alive with new and exciting material. For example, February's upcoming issue will also feature a story about the delectable cronut and its creator Dominique Ansel.
This new direction from Food & Wine is cooking up to be a success; celebrity chef lovers and readers could expect to see new celebrity chefs spotlighted in the future if the feature garners good feedback. It will be fun to learn things about chefs that you might not ever know such as Grant Achatz and his favorite TV shows or see pictures of celebrity chefs' home kitchens. Generating more closeness between readers and their celebrity chefs is a surefire way to keep those culinary readers hungry for more.
Contact Celebrity Chef Network today to hire celebrity chefs for cooking demonstrations, endorsements, appearances and cookbook signings. Contact us through our contact form or by email: booking@celebritychefnetwork.com