One way celebrity chefs are expanding their market and reach, aside from their cookbooks, TV shows, or appearances, is through developing their own product lines. The host of Food Network's cooking show Mexican Made Easy, Celebrity Chef Marcela Valladolid is partnering with Safeway, one of the largest food and drug retailers in North America, to create her own brand of Mexican food products. The Marcela Valladolid brand hopes to bring the authentic flavors of Mexico to the homes of shoppers. Chef Marcela follows in the footsteps of other celebrity chefs who have started their own product line including Chef Aaron McCargo, Jr. and his line of spices, Emeril Lagasse's cookware, and Wolfgang Puck's food products. The endorsement deal benefits both parties as Safeway welcomes a celebrity chef line to their store and Chef Marcela builds her own personal brand through the Safeway food product line.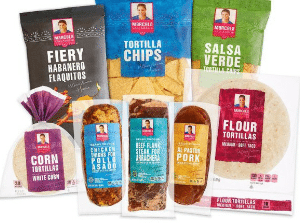 The Marcela Valladolid brand features an assortment of different products from tasty snacks and tortillas to ready-to-cook meals all dedicated to sharing Chef Marcela's authentic, Mexican heritage through her food. The ready-to-cook dinners include entrees such as Ancho Chipotle Chicken and Carne Asada, while her other foods allow for consumers to build their own menus with corn and flour tortillas as well as snack foods like her Salsa Verde Tortilla Chips which allow for flavorful appetizer options.
Senior vice president of Consumer Brands for Safeway Joe Ennen expressed the importance of the new line to Safeway's Hispanic shoppers. The brand aims to bring a real Mexican eating experience which Chef Marcela provides for all shoppers through her knowledge of real, genuine Mexican cuisine and flavors. Chef Marcela is an accomplished author with two cookbooks focused on the flavors of her Mexican upbringing, entitled Fresh Mexico: 100 Simple Recipes for True Mexican Flavor and Mexican Made Easy: Everyday Ingredients, Extraordinary Flavor. By finding someone so deeply rooted in Mexican heritage and accomplished in culinary arts, Safeway has found a perfect fit to partner with and provide their customers with an authentic Mexican food product line.
Contact us through our contact form, by email: booking@celebritychefnetwork.com or call us at 888.864.4734 for more information or to hire celebrity chefs for cooking demonstrations, endorsements, appearances and cookbook signings.