Here is our weekly list of trending celebrity chef personalities for hire. Consult with Celebrity Chef Network to hire celebrity chefs for events, fundraisers, corporate functions and other celebrity chef appearances.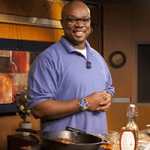 Aaron McCargo Jr.: Any event with Celebrity Chef Aaron McCargo Jr. is sure to be a hoot! The host of Big Daddy's House on Food Network has a big personality to match his passion for sharing his culinary creations with others. Next Tuesday he will embark on the McCargo Healthy Lifestyle Tour, bringing his dialysis friendly dishes to Atlanta, Detroit in partnership with Fresenius Medical Care North America. Hire Celebrity Chef Aaron for celebrity chef appearances from simple meet and greets to full-scale cooking demonstrations!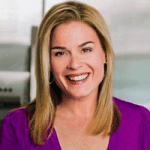 Cat Cora: The beautiful mountains and clear skies of Palm Desert will serve as the backdrop of an exciting upcoming food & wine festival in California. Celebrity Chef Cat Cora will be one of several culinary queens providing cooking demonstrations and mingling with foodies at the annual Food & Wine Festival Palm Desert event. This Iron Chef is always a crowd favorite when hired for celebrity chef speaking engagements and other celebrity chef appearances.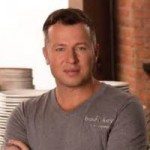 Jason Roberts: Say goodbye to all those sugary processed foods! Celebrity Chef Jason is spreading the word on the benefits of natural, unprocessed ingredients. His latest cookbook titled Good Food — Fast: Deliciously Healthy Gluten-Free Meals for People on the Go has given America a new road map for a healthy diet overhaul. Hire Celebrity Chef Jason to enlighten your audience about the importance of living a healthy lifestyle.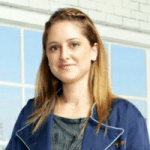 Brooke Williamson: Celebrity Chef Brooke is a popular Top Chef alum and restaurateur who will share her new recipes and culinary tips at the Food & Wine Festival Palm Desert 2015. A native of Los Angeles, Brooke is finding her footing in the world as a renowned celebrity chef, wife and mother. Let Celebrity Chef Brooke share her thoughts on food, family and fun at your upcoming corporate event or trade show.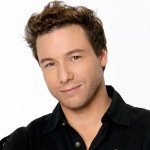 Rocco DiSpirito: Here is a celebrity chef for hire who has taken health matters into his own kitchen. His inspiring story of weight-loss and self-discovery supplements his new smorgasbord of healthy recipes at cooking demonstrations and meet and greets. Recently Rocco agreed to appear in Z Living's new series Fit, Famous & Fabulous. Rocco DiSpirito offers audiences practical advice to stay healthy and fit during his many celebrity chef speaking engagements and demonstrations.
Paula Deen: Don't call it a comeback! When it comes to southern cooking royalty, Celebrity Chef Paula Deen still reigns supreme. Paula is gearing up to launch a new radio show and podcast sharing her tips and tricks in the kitchen debuting May 1. A culinary power as grandiose as Ms. Deen falls in the same celebrity chef fee range as Food Network megastars Rachael Ray, Guy Fieri, Bobby Flay and Emeril Lagasse.
Gordon Ramsay: Here's the reality: it's going to take a 6-figure budget to hire a famous chef like Gordon Ramsay. The good news? You certainly get what you pay for. Celebrity Chef Gordon was chosen to provide the cuisine at the 23rd annual Elton John AIDS Foundation Academy Awards Viewing Party with a star-studded guest list. The biggest celebrity personalities in the world depend on Gordon to deliver at corporate events and you can too!
Ana Quincoces: Celebrity Chef and TV personality Ana Quincoces believes cooking is an art form not a form of slave labor for women! She has written several cookbooks and is working on a fourth that she hopes will empower women to feel comfortable in their own skin and the kitchen. This month she introduced her own line of gluten-free Million Dollar Marinades as a part of her Skinny Latina food line. Ana is always on the go and ready to bring the perfect Latin flavor to your upcoming food festival or event.
Vivian Howard: Celebrity Chef Vivian is reveling in the sweet success of A Chef's Life on PBS filmed in the comfort of her own kitchen in North Carolina. She recently made an appearance in Mount Pleasant, South Carolina sharing her culinary story during an exciting meet and greet and accompanying cooking demo. Vivian is a well-spoken, talented individual available for celebrity chef speaking engagements, demonstrations and other celebrity chef appearances.
Gale Gand: Chicago-based pastry chef Gale Gand will also be making the trip west for warmer weather and the Food & Wine Festival Palm Desert. Celebrity Chef Gale has won James Beard Awards for her incredible pastries in addition to her outstanding service in the industry. She has doubled as a food blogger for Huffington Post and as a guest judge on Bravo's Top Chef. When it comes to the culinary industry, Gale has seemingly done it all. Hire Celebrity Chef Gale to share her wide-ranging experience with you at your upcoming event.