You say impossible? Well, maybe you've just been following the wrong recipe!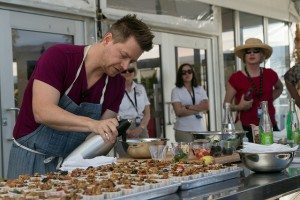 The experts at Celebrity Chef Network have created the most efficient and cost effect way to secure your favorite culinary star for a paid appearance at your next event. From festivals to street fairs, trade shows and corporate events; hosting a famous chef as a keynote speaker at your next function is sure to be a memorable night for all in attendance.
Celebrity Chef Network was set up to assist companies, groups, meeting planners and organizers in hiring a celebrity chef. These famous chefs bring their culinary knowledge to life through world-class cooking demonstrations, keynote speeches and moderated Q&A's as well as taking part in charity events. Whether you've hired a celebrity chef in the past and were unhappy with the management of the client-talent relationship or have never had the pleasure of booking one of the culinary industry's most popular figures, Celebrity Chef Network can help find an appealing celebrity chef starting with a budget as low as $10,000.
When you hire Celebrity Chef Network as the booking agent for your next event, a team of industry experts will walk you through the simple steps to hiring the right celebrity chef for any event. This includes creating and building a strategy to obtain a celebrity chef that not only fits in your budget, but has the right attributes to contribute to the overall theme and success of your event. Celebrity Chef Network will vet the celebrity chef accordingly, check their scheduled availability, negotiate the speaking engagement or appearance and execute all of the back-end details including logistics.
Celebrity Chef Network's group of experienced experts know the right questions to ask, understand the culinary environment and have a firm understanding of what needs to transact before it develops into an issue! Are you worried about the menu development? Travel for the celebrity chef? Car Service? Cooking instruments for the demonstration? Celebrity Chef Network has extensive experience in dutifully carrying out the top-to-bottom process of booking a celebrity chef.
If you are looking for a consulting firm that has garnered the reputation in the industry for getting things done, fast, intelligently and within budget, Celebrity Chef Network is your best choice. Email our team of experts at booking@celebritychefnetwork.com or call us at (212)410-9879. You can search for desired celebrity chefs in our database designed to easily categorize the celebrity chef talent by fee, cuisine, and other career endeavors such as cookbooks and restaurants.