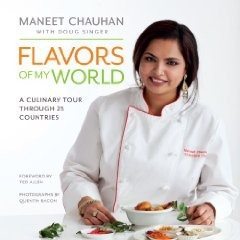 Celebrity Chef Maneet Chauhan will embark on a 30 day culinary tour of 21 cities nationwide.   As part of this Tour, Celebrity Chef Chauhan will represent Pro Start and host cooking competitions for students in most of the cities that she will visit.  Three Pro Start student picked randomly will participate.  The students will have 40 minutes to create their culinary meal.  The grand prize is an all expenses paid trip to Washington DC to cook with an unannounced celebrity chef as part of the White House Chef Tour.
Maneet Chauhan, with her direct and often cutting edge interpretations of chef's cuisine on Food Network's Chopped will start the Cutting Edge Tour in NYC April 18.    Her book, Flavors of My World focuses on 50 food and beverage recipes that the Celebrity Chef has created from her journeys around the World.   Celebrity Chef and food expert, Maneet Chauhan will venture to Baltimore, Denver, Atlanta, Dallas and Los Angeles.   At the end of the Tour, Chef Chauhan will stop at the famed National Restaurant Association show in Chicago.   This industry show will have many featured Celebrity Chefs.
Celebrity Chefs are available for personal appearances, speaking engagements, endorsements, licensing opportunities, PR campaigns, and cooking demonstrations.  Please contact us at booking@celebritychefnetwork.com for more information or to hire a celebrity chef.