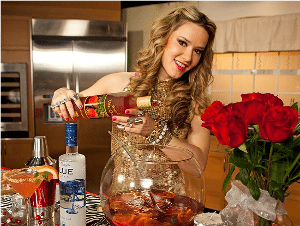 Food Network star Nadia G has partnered with premium vodka brand Van Gogh to cook up meals utilizing its products and cocktails that make a party of any dinner!  Nadia G, the star of Bitchin Kitchen is thought of as fearless, cutting edge and outside the mainstream by most, has teamed with Van Gogh Vodka to show the various ways their product can be utilized in the home and not just a drink at your favorite watering hole or club!
Nadia G who is a cookbook author, taught herself how to cook and a self-made success story, she is a mirror image of Van Gogh which is widely known as one of the most innovative spirits brands with their colored vodka and multiple flavors.  Nadia G brings an air of cool to her but at the core is considered a good representative of women who have earned the ability to make their own decisions!  Nadia G will create recipes for the Van Gogh brand, make tactical appearances for the brand and be a presence on their website.   Starting as an internet star, Nadia G was destined for success.  With her outrageous look and her classic NY accent, Nadia G takes charge of every situation!
Nadia G thinks that Van Gogh Vodka has a bitchin' flavor and she will work for the next year to bring the brand and its product to discerning women around the country.    Nadia G will be involved with traditional spokesperson responsibilities including personal appearances, social media, recipe development and usage of her name, picture, image and likeness.
Celebrity Chefs are available for personal appearances, speaking engagements, endorsements, licensing opportunities, PR campaigns, and cooking demonstrations.  Please contact us at booking@celebritychefnetwork.com for more information or to hire a celebrity chef.