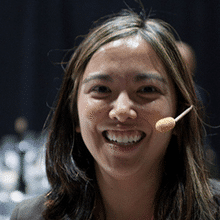 Aki Kamozawa
Does Virtual Events:
TV Show: No
Cookbook: Yes
Restaurant: No
Cuisine: Writer/Blogger
Fee Range: Under $10,000

Instrgram Followers:

TikTok Followers:
Biography:
Hire Aki Kamozawa through Celebrity Chef Network. Booking a celebrity chef requires an expert team. Let the booking agents at Celebrity Chef Network help you hire the best one for your brand or event. To contact Celebrity Chef Network, call 212-410-9879 or email booking@celebritychefnetwork.com.
NETWORKS: Food Network
SHOWS: The Food Detectives
BIO: Aki Kamozawa and Alexander Talbot are the owners of Ideas in Food, LLC, a consulting business out of Levittown, PA. They began working together in 1997, at Clio in Boston and have been working together ever since. Together, they share techniques, creativity for food and innovative approaches to food. Their business grew out of their blog, Ideas in Food, and now they have grown to help restaurants, food service companies, and home kitchens use creative ways and unique approaches to create food. They have consulted with companies such as the No. 9 Group in Boston, Fourth Wall Restaurant in New York City, Frito Lay, and Unilever. Ideas in Food website began in 2004 as a digital notebook to record their work in restaurant kitchens. The website has grown hugely over the past 7 years from a cult following of professional chefs into a benchmark for culinary blogs. It is a definite go to for foodies and chefs to help spark ideas in their own kitchens. Aki Kamozawa and Alexander Talbot have been invited to some of the most respected conferences for chefs including the Experimental Cuisine Collective and the International Association of Culinary Professionals. Together they appeared as guest chefs for three Holland America cruises, where they lead demonstrations and taught classes to the passengers.
They also write for Popular Science online, and write a column titled Kitchen Alchemy, highlighting scientific explorations in the kitchen. Aki and Alex have been published in Sante Magazine, contributed to an essay in Food and Philosophy and have appeared in New York Time, LA Times, Food and Wine Magazine, Saveur, Sante Magazine, and Gourmet online. Aki Kamozawa and Alexander Talbot have appeared on The Food Detectives on the Food Network and have been on Food Talk radio station, WOR, in New York. They are both available for speaking engagements, personal appearances and hosting.
APPEARANCES: The Food Detectives, Food Network
ENDORSEMENTS: Unilever
WHO REPRESENTS AKI KAMOZAWA: Celebrity Chef Aki Kamozawa can be hired for endorsements and events in roles such as culinary consultant, event planner, public speaker, autograph signings, cooking demonstrations, hosting, Mommy Blogger events, SMTS, public relation campaigns, team building events and corporate hospitality.
To hire Aki Kamozawa for an endorsement, personal appearances, or book signing contact the experts at Celebrity Chef Network at booking@celebritychefnetwork.com  or 212-410-9879.