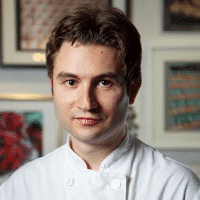 Alex Stupak
Does Virtual Events:
TV Show: No
Cookbook: No
Restaurant: Yes
Cuisine: Desserts and Pastry, Mexican
Fee Range: Under $10,000

Instrgram Followers:

TikTok Followers:
Biography:
Alex Stupak is a chef visionary and restaurateur currently operating several restaurants in the New York area. His inspiration arose from the cookbooks of pastry genius Chef Albert Adrià, the younger brother of esteemed Chef Ferran Adrià, before deciding to delve into the art of Mexican cuisine. His effortless switch from pastry king to Mexican cuisine showcases his creativity and exceptional culinary knowledge.
A graduated of the Culinary Institute of America, Chef Alex honed his pastry skills at Boston's renowned Elliott Hotel restaurant, Clio. He is credited with being the restaurant's first ever pastry chef after returning there from working as a tournant at Chicago's Tru restaurant and the sous chef position at The Federalist restaurant in Boston.
Chef Alex could be considered part of the modernist movement in cooking when he took a job under head chef and owner Grant Achatz at Alinea restaurant in 2005. He also worked as a pastry chef at WD-50 restaurant in Manhattan, which has been awarded a Michelin Guide star every year since 2006. After four successful years at WD-50, he went on to open and own his new Mexican restaurant Empellon Taqueria and later Empellon Cocina. Over the course of his cooking career, Chef Alex couldn't deny his love for Mexican cuisine and this lead him to ideas of opening a taqueria.
The idea for both of Chef Alex's restaurants is to take Mexican cuisine in a new direction without stripping it of its soul. The taqueria focuses on creating a well-made tortilla before filling it with fine ingredients. Chef Alex strives to maintain the authenticity of Mexican flavor while exploring new ways to make the dishes better.
Cooking demonstrations, endorsements, personal appearances, PR campaigns, speaking engagements, hire, book, we represent, contact, find celebrities, chefs and agents for Alex Stupak. If you want to find the representation, PR firm, marketing company, corporate consulting, speaking agent, to book or hire Alex Stupak, Celebrity Chef Network is the agency of corporate consulting for your program. Our booking agents are the best in the business for consulting companies, agencies and universities in finding fees, availability and interest for celebrity chefs like Alex Stupak for any type of event, appearance, speaking engagement, endorsement, corporate event, motivational speech, PR campaigns, etc. Call Celebrity Chef Network at 212-410-9879 or email booking@celebritychefnetwork.com.  Our booking agents are here to help you hire your Celebrity Chef now.