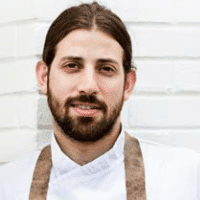 Andy Ticer
Does Virtual Events:
TV Show: No
Cookbook: Yes
Restaurant: Yes
Cuisine: Italian
Fee Range: Under $10,000

Instrgram Followers:

TikTok Followers:
Biography:
Chef Andy Ticer dreamed of opening a restaurant and his dream were realized when he teamed up with fellow chef and friend Chef Michael Hudman in 2008. Their first restaurants, Andrew Michael Italian Kitchen and Hog and Hominy in Memphis, Tennessee, both made it onto the list of Southern Living Magazine's 100 Places to Eat Now. They were also featured in GQ Magazine when Hog and Hominy was named as a Best New Restaurant of 2013.
Chef Andy's American Southern-Italian style is derived from time spent under French Chef Jose Guitierrez, at Chez Philippe in Memphis, and also at the Italian Culinary Institute in Calabria, Italy. His time spent in Italy including living in Lyon, the food capitol of the world, and gave him a firm foundation of the true Italian culinary arts. Chef Andy and his skills have been recognized by the James Beard Foundation twice as a semi-finalist for Best Chef of the Southeast. He was also named by Food & Wine Magazine as one of the Best New Chef's of 2013 alongside talented chefs such as Chef Danny Bowien, Chef Michael Voltaggio, and Chef Alex Stupak.
One of Chef Andy's greatest accomplishments besides his two thriving restaurants is his cookbook with Chef Michael called Collards and Carbonara. The cookbook is simple with one page recipes alongside beautiful photos of the finished product, but the recipes are rich with ingenious flavor combinations from both of their restaurants. The cookbook also features spotlight recipes from their celebrity chef friends including Top Chef Masters season four winner Chef Chris Cosentino.
Cooking demonstrations, endorsements, personal appearances, PR campaigns, speaking engagements, hire, book, we represent, contact, find celebrities, chefs and agents for Andy Ticer. If you want to find the representation, PR firm, marketing company, corporate consulting, speaking agent, to book or hire Andy Ticer, Celebrity Chef Network is the agency of corporate consulting for your program. Our booking agents are the best in the business for consulting companies, agencies and universities in finding fees, availability and interest for celebrity chefs like Andy Ticer for any type of event, appearance, speaking engagement, endorsement, corporate event, motivational speech, PR campaigns, etc. Call Celebrity Chef Network at 212-410-9879 or email booking@celebritychefnetwork.com.  Our booking agents are here to help you hire your Celebrity Chef now.