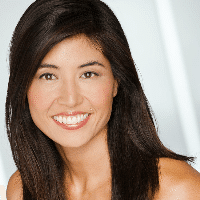 Ani Phyo
Does Virtual Events:
TV Show: Yes
Cookbook: Yes
Restaurant: No
Cuisine: Healthy, Organic
Fee Range: $10,000 – $20,000

Instrgram Followers:

TikTok Followers:
Biography:
Hire Ani Phyo through Celebrity Chef Network. Booking a celebrity chef requires an expert team. Let the booking agents at Celebrity Chef Network help you hire the best one for your brand or event. To contact Celebrity Chef Network, call 212-410-9879 or email booking@celebritychefnetwork.com.
NETWORKS: Travel Channel, Food Netowrk, Oxygen, ABC
SHOWS: Bizarre Foods
BIO: Organic foodie and chef, Ani Phyo uses local, organic, seasonal, fresh produce, nuts and seeds to create unique recopies. As author of three cookbooks she was named one of 12 'Warriors" in Sambazon Acai's "Warrior Up" advertising campaign, which celebrates the work of leading social and environmental activists.
Growing up surrounded by natural and organic foods, it was only natural for Ani Phyo to co-found SmartMonkey Foods. SmartMonkey Foods was a catering company hosting gourmet raw food dinner which clients ranging from Nike, Adidas and Carnival Cruise Lines. In 2009 SmartMonkey Foods ceased operations. Ani's other projects include web and multimedia work with her company, SmartMonkey Media. She has created websites and user-centered interaction design for the Web. Ani Phyo created a 14,000 page rich-media educational site for Simon and Schuster in 1996.
Ani Phyo is passionate about working with Pedal Patch Community, where she teaches at risk youth on ways to garden and make food in urban areas. She has been seen featured on billboards around California wearing a warrior headdress. Ani wants to spread the word to all children on how to connect themselves to the earth and would an addition to your conference. Ani Phyo is available for speaking engagements, cooking demonstrations, and mommy blogger events.
APPEARANCES: Travel Channel, Bizarre Foods, Hollywood Reporter, Oxygen, VegNews, Food Network, Food & Wine, Alternative Medicine Magazine
ENDORSEMENTS: Vitamix blenders, Excalibur Dehydrator, Sambazon Acai
BOOKS: Return on Design, Ani's Raw Food Essentials, Ani's Raw Food Desserts, Ani's Raw Food Kitchen
WHO REPRESENTS ANI PHYO: Celebrity Chef Ani Phyo can be hired for endorsements and events in roles such as culinary consultant, event planner, public speaker, autograph signings, cooking demonstrations, hosting, Mommy Blogger events, SMTS, public relation campaigns, team building events and corporate hospitality.
To hire Ani Phyo for an endorsement, personal appearances, or book signing contact the experts at Celebrity Chef Network at booking@celebritychefnetwork.com  or 212-410-9879.