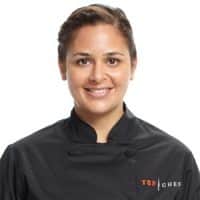 Antonia Lofaso
Does Virtual Events:
TV Show: Yes
Cookbook: Yes
Restaurant: Yes
Cuisine: American, Healthy, Italian
Fee Range: $10,000 – $20,000

Instrgram Followers: 6,828

TikTok Followers:
Biography:
Celebrity Chef Antonia Lofaso gained notoriety in the culinary industry as a fan favorite on season 4 of the popular Bravo cooking competition series Top Chef in 2008. Since then, she has made celebrity chef appearances on major TV programs such as the Hallmark Channel and ABC's The Chew. In 2010, Antonia returned to Bravo to participate in Top Chef: All-Stars. Antonia came in 3rd place behind esteemed Celebrity Chefs Richard Blais and Mike Isabella. Most recently, Antonia has opened her own restaurants Black Market in Studio City, California as well as Scopa Italian Roots in Venice, California. In 2015, Antonia was a featured Celebrity Chef on the second season of NBC's high-stakes culinary competition series Food Fighters.
Celebrity Chef Antonia Lofaso is the author of her own signature cookbook that hit shelves in 2013 called The Busy Mom's Cookbook: 100 recipes for Quick, Delicious, Home-Cooked Meals. The cookbook covers a variety of quick and easy dishes for parents and families who are always on the go.
Antonia attended the acclaimed French Culinary Institute. After graduation, she was hired at world class Celebrity Chef Wolfgang Puck's renowned eatery, Spago in Beverly Hills. She worked at the restaurant for six years before taking her culinary skills to the next level at Foxtail supper club in Los Angeles. It was during her time at Foxtail that she was chosen to be a contestant on Top Chef season 4. In addition to her commercial work, Celebrity Chef Antonia Lofaso has been a private chef to some of the biggest stars in Hollywood.
As a single mother to daughter Xea, Antonia has mastered the art of multi-tasking. She is a fulltime mom while acting as owner and executive chef of her two popular restaurants. It takes a lot of hard work and dedication, but Antonia maintains the perfect work/life balance.
Celebrity Chef Antonia Lofaso is an endearing Celebrity Chef personality available for cooking demonstrations and other Celebrity Chef appearances.