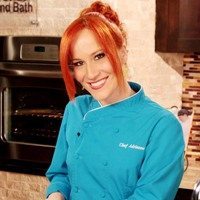 Adrianne Calvo
Does Virtual Events:
TV Show: No
Cookbook: Yes
Restaurant: Yes
Cuisine: American
Fee Range: $10,000 – $20,000

Instrgram Followers:

TikTok Followers:
Biography:
Celebrity Chef Adrianne Calvo is a Cuban/American chef, author, television personality, and restaurateur who owns and operates Chef Adrianne's Vineyard Restaurant and Wine Bar in Miami, Florida. Inspired by the grapes and the good eats Napa Valley, Chef Adrianne created her restaurant to bring that same atmosphere to the suburbs of Miami.
In 2002, Adrianne began her culinary journey enrolling in culinary school at Johnson & Wales University. While she was there, this fiery redhead entered over forty national cooking competitions and received first place in 10 and runner-up in the rest. Adrianne also competed in a National Pastry Competition held by Johnson & Wales and took home a bronze medal without any formal training. In 2003, Adrianne won the Australian culinary contest Taste Down Under. She became the youngest chef ever to cater a United Nations dinner after her winning dish was served at a U.N. gala that year. Adrianne was head and shoulders above her peers when she graduated in 2004, becoming the youngest chef to work at the five-diamond Mandarin Oriental Hotel in Miami under executive chef Patrick Lassaque. Before long she had made her way to Napa Valley to work under renowned Chefs Thomas Keller and Cindy Pawlcyn.
In 2006, tragedy struck when Adrianne lost her sister to tongue cancer. The resilient Celebrity Chef used the experience to make a difference for other families affected by the disease. She created the Make It Count Foundation to benefit families with children suffering from cancer and helps sponsor events for the Susan G. Komen Foundation and St. Jude Children's Hospital among others. A year later she opened her Miami restaurant. Adrianne and her restaurant are now a staple in the culinary scene of Miami. She makes regular appearances at the South Beach Food & Wine Festival each year.
Celebrity Chef Adrianne Calvo has authored 2 signature cookbooks called Play With Fire and #MaximumFlavor Social which hit stores in November of 2014.
After becoming a celebrity spokesperson for Panda Kitchen and Bath, Celebrity Chef Speaker Adrianne has appeared as a regular guest of several TV programs including 6 in the Mix on NBC her own segments on Clear Channel.