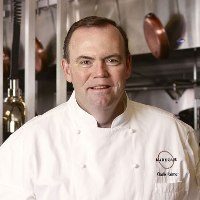 Charlie Palmer
Does Virtual Events:
TV Show: No
Cookbook: Yes
Restaurant: Yes
Cuisine: American, Garden to Table
Fee Range: $20,000 – $50,000

Instrgram Followers: 10,760

TikTok Followers:
Biography:
Restaurateur, author, entrepreneur and Celebrity Chef Speaker Charlie Palmer is one of the most prominent figures in the culinary industry today. He is known for what he calls Progressive American Cuisine and has established over 12 restaurants spread out across New York, Nevada, Washington, D.C. and California. In addition to his thriving restaurant business, top Celebrity Chef Charlie Palmer has furthered his experience in the hospitality industry opening 3 hotels in California. In May of 2015, he opened up both the Harvest Table (a full service restaurant), and the Harvest Inn (a boutique hotel) in St. Helena, California.
Celebrity Chef Charlie Palmer is a strong advocate for farm to table ingredients. While growing up in upstate New York, he gained an understanding and appreciation for naturally fresh, home-grown ingredients by tending to his family's vegetable garden. Like many of today's top celebrity chefs, Charlie completed his training at the American Culinary Institute. Upon graduating, he became the executive chef at the famous River Café in Brooklyn, NY. It was here where he perfected his craft and employed innovative ideas that would revolutionize the landscape of American Cuisine.
At 28, this celebrity chef speaker opened up a restaurant of his own called Aureole. The restaurant has since become a staple in the NYC foodsphere and has garnered a Michelin star every year since 2006. Charlie is also the author of five cookbooks: Remington Camp Cooking (2013), Charlie Palmer's Practical Guide to the New American Kitchen (2006), The Art of Aureole (2002), Charlie Palmer's Casual Cooking (2001) and Great American Food (1996).
Over time, Celebrity Chef Charlie Palmer has transformed from an aspiring chef to an impressive entrepreneur and member of the culinary world's elite. His career serves as a model of success but the best is still yet to come for this revolutionary chef as he continues to explore new ways to redefine American Cuisine.
Would your organization like to hire a chef for your upcoming event or marketing campaign? Let a qualified celebrity chef booking agent help find the perfect celebrity chef for you! A celebrity chef speaker can create a dynamic event and add energy and excitement to your event. Celebrity chef appearances can consist of a cooking demonstration, personal appearances or a keynote speech.  If you would like to hire Celebrity Chef Charlie Palmer or are interested in exploring other celebrity chefs please call Celebrity Chef Network at 212-410-9870 or email booking@celebritychefnetwork.com to speak with a celebrity chef agent to discuss top celebrity chefs available for your organization and event.