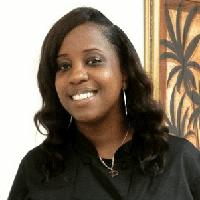 Chef Dee
Does Virtual Events:
TV Show: No
Cookbook: No
Restaurant: Yes
Cuisine: American, Celebrities in Food, Fusion
Fee Range: $10,000 – $20,000

Instrgram Followers: 7,166

TikTok Followers:
Biography:
Celebrity chef for hire Chef Dee (De'Bronya Hodges) is perhaps best recognized as the personal chef of hip-hop music mogul DJ Khaled. The world was introduced to Chef Dee and her amazing culinary creations after DJ Khaled began snapchatting his everyday life in 2015 including some incredibly tasty meals from Chef Dee. Chef Dee became a viral social media sensation and she has since become a highly sought after celebrity chef for personal appearances including cooking demonstrations and event hosting. When not traveling the country for celebrity chef appearances, Chef Dee operates her own catering company, Empty Plates Catering, out of Miami, Florida. In February of 2017, she announced plans to open her first restaurant in Miami.
Chef Dee founded Empty Plates Catering company in 2012 after working in several Miami restaurants. She is a master chef of classic soul food and fuses international cuisines with her own special twist. Some of her specialties include crab cakes, broccoli & cheddar soup and mac & cheese as well as curry lobster and shrimp with cauliflower. And don't forget her signature barbeque sauce! Chef Dee's goal in the kitchen is to find the perfect balance of flavor, creativity and presentation.
Would your organization like to hire Chef Dee for your upcoming event or marketing campaign? Let a qualified celebrity chef booking agent help find the perfect celebrity chef speaker for you! A celebrity chef speaker can create a dynamic event and add energy and excitement to your event. Celebrity chef appearances can consist of a cooking demonstration, personal appearances or a keynote speech. If you would like to hire Chef Dee or are interested in exploring other celebrity chefs please call Celebrity Chef Network at 212-410-9879 or email booking@celebritychefnetwork.com to speak with a celebrity chef agent to discuss top celebrity chefs available for your organization and event.