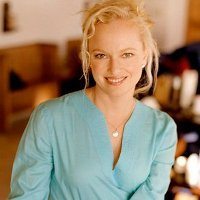 Lulu Powers
Does Virtual Events:
TV Show: No
Cookbook: Yes
Restaurant: No
Cuisine: American, Celebrities in Food
Fee Range: $20,000 – $50,000

Instrgram Followers:

TikTok Followers:
Biography:
Chef Motivational Speaker, Lulu Powers sure knows how to organize a party from its mouth-watering dishes to the dashing décor. She is a premier caterer and event planner in Los Angeles fielding celebrity clients such as Will and Jada Smith, Arianna Huffington and Madonna. Dubbed "The Entertainologist", she has become a master in the art of entertaining guests. Lulu continues to thrill her audiences at cooking demonstrations and personal appearances at food & wine festivals, home shows and other events.
Chef Motivational Speaker, Lulu Powers grew up in Connecticut where she honed her skills as a culinary artist under cookbook author Sarah Lee Chase. Some of her first recipes were published in early volumes of Chef Sarah's renowned collection of cookbooks. She began working as a private chef and soon moved to L.A. to start her own catering business, Lulu Powers Food to Flowers. It wasn't long before A-list celebrities were calling on the services of Chef Lulu to spice up their everyday meals and celebrations. She now owns and operates her own website where she shares daily blog posts and recipes on everything from soups to fashion styles! The website content is syndicated across a multitude of social media networks including Pinterest, Twitter, Facebook and Instagram.
In April of 2010, Chef Motivational Speaker, Lulu Powers published her best-selling guide for stylish food and easy entertaining called Lulu Powers Food to Flowers.
The full-color cookbook features 175 recipes not including her clever party-planning tips that will turn your regular neighborhood get together into a smashing soiree. She is a regular guest as a lifestyle expert on TV programs such as the Today Show, The Nate Berkus Show and Access Hollywood. Her recipes and tips on entertaining guests have graced the pages of a handful of print publications as well which include but are not limited to Food & Wine, In-Style, Elle and Vogue magazines.