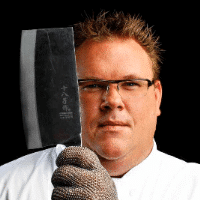 Chris Shepherd
Does Virtual Events:
TV Show: No
Cookbook: No
Restaurant: Yes
Cuisine: American, Cajun
Fee Range: Under $10,000

Instrgram Followers:

TikTok Followers:
Biography:
Wine guy turned Houston chef Chris Shepherd has honed his culinary skills and is beginning to receive more and more recognition. Previously mentioned in The Wall Street Journal, Saveur Magazine, and Food Arts Magazine, Chef Chris was awarded a spot on the Best New Chef list by Food & Wine Magazine for 2013. He received this award alongside multiple talented chefs including Jose Enrique of Puerto Rico, Michael Voltaggio from season six of Top Chef, and Minister Chinese Food's Danny Bowien.
Chef Chris spent nine years at Brennan's of Houston working alongside his friend Chef Randy Evans, author of the cookbook titled The Kitchen Table. While working at Brennan's he also served as a sommelier as well as his executive sous-chef duties, further expanding his ideas on dining and what goes into the experience. After five years as Executive Chef with Catalan Food & Wine, he was able to secure his own place and start his own restaurant called Underbelly.
Underbelly is an eatery committed to bringing together all the culinary history of Houston. Chef Chris designed a kitchen with low counters so that his customers can see and talk to the chefs preparing their food for a richer experience. The cuisine at Underbelly embraces an American creole style cuisine with an Asian twang. Like Chef Jamie Malone in Minneapolis and Chef Matthew Gaudet, Chef Chris also tries to obtain his seafood through sustainable sources while raising herds and growing his own produce locally. Southern Living Magazine named Underbelly one of its best new restaurants of the south and Chef Chris Shepherd continues to bring pride to the Houston community through his cuisine.
Cooking demonstrations, endorsements, personal appearances, PR campaigns, speaking engagements, hire, book, we represent, contact, find celebrities, chefs and agents for Chris Shepherd. If you want to find the representation, PR firm, marketing company, corporate consulting, speaking agent, to book or hire Chris Shepherd, Celebrity Chef Network is the agency of corporate consulting for your program. Our booking agents are the best in the business for consulting companies, agencies and universities in finding fees, availability and interest for celebrity chefs like Chris Shepherd for any type of event, appearance, speaking engagement, endorsement, corporate event, motivational speech, PR campaigns, etc. Call Celebrity Chef Network at 212-410-9879 or email booking@celebritychefnetwork.com.  Our booking agents are here to help you hire your Celebrity Chef now.