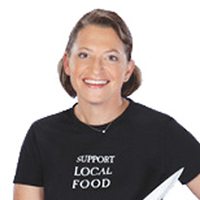 Duskie Estes
Does Virtual Events:
TV Show: Yes
Cookbook: Yes
Restaurant: Yes
Cuisine: American, Fusion, Garden to Table
Fee Range: $10,000 – $20,000

Instrgram Followers: N/A

TikTok Followers:
Biography:
Celebrity chef for hire Duskie Estes is a beloved Food Network personality who rose to fame as a contestant on Food Network's Next Big Star season 3 and season 5. She is currently a judge on Guy's Grocery Games. Based in Sonoma County, California, Duskie and her husband John own and operate ZAZU kitchen + farm which has garnered numerous awards as one of the top restaurants in the Bay Area. Duskie fully embraces the farm to table and snout-to-tail approach in the kitchen as she sources all produce and meats for her restaurant from her own farm and garden. Her cooking style is simple yet flavorful, allowing the ingredients to shine for what they are in each dish.
Duskie will tell you she first fell in love with cooking at the age of 5 using her trusty EZ-Bake Oven. As she grew older, she couldn't get enough of the restaurant life and began working in restaurants around the U.S. including Palace Kitchen in Seattle. While at Palace, Duskie was named Seattle Best Chef by City Search in 2000 and Gourmet Magazine ranked the Palace as one of the top 5 restaurants in Seattle and one of the top 50 restaurants in the country. In 2001, she helped co-author the James Beard Award-winning cookbook Seattle Kitchen with chef Tom Douglas.
Later in 2001, Duskie and her husband decided it was time to open up their own culinary venture and developed the concept for ZAZU. Since the grand opening, ZAZU has offered guests a seasonal menu that is focused on locally sourced produce and a variety of different cuts of meats. Duskie's snout-to-tail approach includes saving kitchen scraps to feed the farm animals. In 2009, Duskie and John were given the Rising Star Chefs Award for Sustainability. ZAZU has also been included in the San Francisco Michelin Guide every year since 2008.
When she is not in the garden or the kitchen, Duskie travels the country for celebrity chef appearances at local food & wine festivals, trade shows and other special events. Duskie is available for cooking demonstrations as well as celebrity chef speaking engagements in which she can share her thoughts on food sustainability, her own farm to table and snout-to-tail approach, and her experiences as a celebrity chef on TV and in her own award-winning restaurant.
Would your organization like to hire Duskie Estes for your upcoming event or marketing campaign? Let a qualified celebrity chef booking agent help find the perfect celebrity chef speaker for you! A celebrity chef speaker can create a dynamic event and add energy and excitement to your event. Celebrity chef appearances can consist of a cooking demonstration, personal appearances or a keynote speech. If you would like to hire Duskie Estes or are interested in exploring other celebrity chefs please call Celebrity Chef Network at 212-410-9879 or email booking@celebritychefnetwork.com to speak with a celebrity chef agent to discuss top celebrity chefs available for your organization and event.