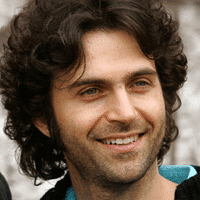 Dweezil Zappa
Does Virtual Events:
TV Show: Yes
Cookbook: No
Restaurant: No
Cuisine: Celebrities in Food
Fee Range: $20,000 – $50,000

Instrgram Followers:

TikTok Followers:
Biography:
Grammy Award nominated Dweezil Zappa may be most recognized for his prowess on the guitar, but his passion for cooking has led to another career as a celebrity chef. Zappa, son of fellow musician Frank Zappa, gained fame on the music stage. He made his way on to television in the mid 80's and is noted for working on shows like the Ben Stiller Show. He eventually combined his love for music and cuisine, co-hosting the show Dweezil and Lisa, a reality television show which aired on Food Network in 2004. The series took Zappa and his co-host, fellow rock musician Lisa Loeb, around the country to show their musical and culinary adventures.  Personally, Zappa is a family man who enjoys cooking for his wife and two daughters, exemplifying the amazing working father he is.
A seemingly jack-of-all-trades, Dweezil Zappa has found a way to keep his career around food while continuing his solo music career. He has collaborated with many fellow celebrities, such as Arnold Schwarzenegger, Jimmy Page, and Eddie Van Halen.  Zappa demonstrates an unbelievable work ethic into everything he does, which shows in the greatness of his work and accomplishments.  His charisma has made him an attractive partner for music, television, and cooking alike.
Cooking demonstrations, endorsements, personal appearances, PR campaigns, speaking engagements, hire, book, we represent, contact, find celebrities, chefs and agents for Dweezil Zappa. If you want to find the representation, PR firm, marketing company, corporate consulting, speaking agent, to book or hire Dweezil Zappa, Celebrity Chef Network is the agency of corporate consulting for your program. Our booking agents are the best in the business for consulting companies, agencies and universities in finding fees, availability and interest for celebrity chefs like Dweezil Zappa for any type of event, appearance, speaking engagement, endorsement, corporate event, motivational speech, PR campaigns, etc. Call Celebrity Chef Network at 212-410-9879 or email booking@celebritychefnetwork.com.  Our booking agents are here to help you hire your Celebrity Chef now.