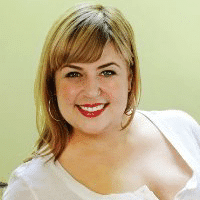 Gabi Moskowitz
Does Virtual Events:
TV Show: No
Cookbook: Yes
Restaurant: No
Cuisine: American, Writer/Blogger
Fee Range: $10,000 – $20,000

Instrgram Followers:

TikTok Followers:
Biography:
Celebrity Chef Speaker Gabi Moskowitz started writing a food and lifestyle blog just for fun. The focus was simple—recipes and advice on preparing economical and low budget yet tasty meals, with every meal costing twenty dollars or less. Now the young blogger has two published cookbooks and is the inspiration for the new ABC show Young & Hungry. Gabi never dreamed that what started off as a hobby to channel her passion for food would turn into a nationally acclaimed blog, and land her in the national publications like New York Times, The Washington Post, and TIME Magazine. She is also a featured chef on the iPad/iPod cooking application called Appetites. Out of the Pantry not only features delicious and simple dishes, but Gabi's humorous and witty personality shine through in her candid, funny, and sometimes sarcastic life observations and pieces of advice in her posts entitled "things I know (this week, anyways)."
In May 2012, Gabi's first cookbook, The BrokeAss Gourmet Cookbook was released, followed by Pizza Dough: 100 Delicious, Unexpected Recipes in 2013. Nothing surprised Gabi more than when ABC decided to move forward with Young & Hungry, which will star actors Emily Osment, Jonathan Sadowski, Aimee Carrero, Kim Whitely, and Top Chef winner Michael Voltaggio. The show is executively produced by former High School Musical actress Ashley Tisdale. The plot revolves around a young food blogger, named Gabi of course, who lands a job as personal chef to a young successful entrepreneur. Gabi describes her fictional self as straightforward and clumsy yet highly motivated and compassionate, a reflection of her own character.
Before deciding to follow her passion, Gabi was a kindergarten teacher. She is also Jewish and has served as an online columnist for publication The Jewish Week. Gabi resides in San Francisco and is paving the way for food bloggers in the food industry.
Cooking demonstrations, endorsements, personal appearances, PR campaigns, speaking engagements, hire, book, we represent, contact, find celebrities, chefs and agents for Gabi Moskowitz. If you want to find the representation, PR firm, marketing company, corporate consulting, speaking agent, to book or hire Gabi Moskowitz, Celebrity Chef Network is the agency of corporate consulting for your program. Our booking agents are the best in the business for consulting companies, agencies and universities in finding fees, availability and interest for celebrity chefs like Gabi Moskowitz for any type of event, appearance, speaking engagement, endorsement, corporate event, motivational speech, PR campaigns, etc. Call Celebrity Chef Network at 212-410-9879 or email booking@celebritychefnetwork.com.  Our booking agents are here to help you hire your Celebrity Chef now.