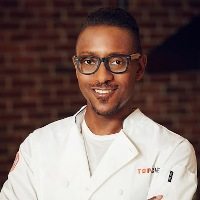 Gregory Gourdet
Does Virtual Events:
TV Show: Yes
Cookbook: No
Restaurant: No
Cuisine: Asian, Fusion, Healthy
Fee Range: $10,000 – $20,000

Instrgram Followers: 17,752

TikTok Followers:
Biography:
Celebrity Chef Gregory Gourdet is best recognized as the runner-up on season 12 of Bravo's Top Chef. His larger than life personality and signature Mohawk are reflective of his trendsetting cooking style and culinary expertise. He currently works as the executive chef at Departure, a pan-Asian restaurant located on the ninth floor of the Nines Hotel in downtown Portland. In 2015, Gregory was a semifinalist for the James Beard Foundation Award for Best Chef Northwest. That same year he was a featured Keynote Speaker at the TedxPortland Conference. During his speech, he talked about overcoming his past struggles with drug and alcohol addiction and reinventing himself in the kitchen.
Gregory is a Queens, New York native who fell in love with the creative process of cooking during pre-med. He decided to attend the Culinary Institute of America and scored an internship at the revered Jean-Georges Restaurant in New York. It was there that he learned the cutting-edge techniques that would earn him Sous Chef and Chef de Cuisine positions at the restaurant. Eventually his addiction got the best of him and he was forced to leave the restaurant.
He moved to Portland to look for new opportunities, but was still unable to reach his full potential thanks to his addiction. It was at that moment he realized he needed to make a change. He began taking the necessary steps to rebuild his life and set new goals for his life and career. Celebrity Chef Gregory Gourdet has now been clean since 2009. He began running marathons and competing in triathlons in addition to changing his diet. Gregory has carried this new healthy lifestyle with him into the Departure kitchen, offering guests a variety of gluten-free, vegan and paleo menu options.
Gregory was one of several featured Top Chef alums including Ash Fulk and Nina Compton chosen to provide cooking demonstrations and other interactive activities with passengers aboard Celebrity Cruises in the fall of 2015. He has also been featured in ad campaigns for Fiat.
Celebrity Chef Gregory Gourdet is an inspirational Celebrity Chef who can teach your audience about the importance of a healthy lifestyle and life lessons beyond the kitchen.