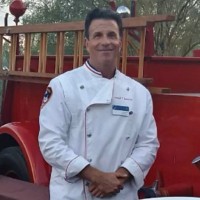 Joseph Bonanno
Does Virtual Events:
TV Show: Yes
Cookbook: Yes
Restaurant: No
Cuisine: American, BBQ, Healthy, Italian
Fee Range: Under $10,000

Instrgram Followers:

TikTok Followers:
Biography:
Celebrity chef for hire Joseph Bonanno, known as The Healthy Firehouse Chef, became interested in cooking while preparing meals for his fellow firefighters of the New York City Fire Department. During his 21 plus years as a New York City Firefighter, Chef Bonanno became certified as Nutritionist and Fitness Trainer with The American Council on Exercise, The International Sports Medicine Association, The Aerobics and Fitness Association of America and New York University. He used his skills in the kitchen to develop a collection "healthy" meals for the firefighters he worked with which were later published in his cookbook entitled The Healthy Firehouse Cookbook: Low-Fat Recipes from America's Firefighters. He has also published two more books since then, The Firehouse Grilling Cookbook, which features one hundred fifty recipes cooked on the grill, and a children's book entitled Monutza the Firefighting Elephant.
Chef Bonanno continued to make a name for himself in the culinary industry by competing in cooking competitions with other firefighters. Joe has won such competitions as the Firefighters Combat Challenge, the FDNY Bake Off, the McIlleheny Tabasco Sauce Cook and Ladder Contest, The International Firefighter Olympic Culinary Division and The Florida State Iron Chef Competition where he went up against some of Florida's top chefs. Upon leaving the fire service, Chef Bonanno graduated with honors from the Culinary Academy of Long Island and completed internships at two of Long Island, NY's finest restaurants, Goccia D'Oro-Northern Italian Cuisine and The Argyle-Continental Cuisine. Chef Bonanno is also a culinary instructor at A La Carte Culinary in Lynbrook, NY.
Chef Joe has done cooking demonstrations on several television programs including ABC's Good Morning America, NBC's The Today Show, The Martha Stewart Show, and shows on The Food Network. He has also done on air and in-store appearances as a spokesperson for brands including Butterball Turkey, Ronzoni Pasta, Johnson and Johnson, Sorrento Cheese, Celebrity Cruise Lines, USA Rice Council, US Canola Oil, Macy's, KitchenAid, and many more.
Chef Bonanno has completed his first season of American Firehouse Cuisine, which aired in the NY, NJ, CT area and can be seen archived on YouTube at American Firehouse Cuisine. He also airs a local radio call in show called "The Healthy Firehouse" on WTAN Clearwater, FL.
In August of 2017, celebrity chef for hire Joseph Bonanno launched an exciting new TV series airing on The Battalion TV Network and online at www.thebattalion.tv.
Joseph published his latest cookbook for the 20 year anniversary of 9/11, American Firehouse Cuisine and is launching new TV show on YouTube… American Firehouse Cuisine. Please visit new website at: http://www.americanfirehousecuisine.com/"
If you want to find the representation, PR firm, marketing company, corporate consulting, speaking agent, to book or hire Joseph Bonanno Jr., Celebrity Chef Network is the agency of corporate consulting for your program. Our booking agents are the best in the business for consulting companies, agencies and universities in finding fees, availability and interest for celebrity chefs like Joseph Bonanno for any type of event, appearance, speaking engagement, endorsement, corporate event, motivational speech, PR campaigns, etc. Call Celebrity Chef Network at 212-410-9879 or email booking@celebritychefnetwork.com.  Our booking agents are here to help you hire your Celebrity Chef now.