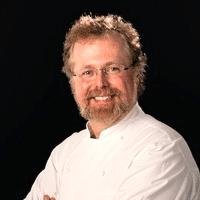 Nathan Myhrvold
Does Virtual Events:
TV Show: Yes
Cookbook: Yes
Restaurant: No
Cuisine: American, Fusion
Fee Range: $50,000 – $100,000

Instrgram Followers:

TikTok Followers:
Biography:
Celebrity Chef Nathan Myhrvold is commonly known for his exceptional skill and expertise in the world of science technology and for being the first Chief Technology Officer at Microsoft.  However, Myhrvold's interests and skills are not strictly bound to the technological field but also include a very strong interest in cooking and food science.
Not a stranger to making new discoveries, Myhrvold is a master in French cuisine who knows how to make the perfect barbecue sandwich.  He has finished in first and second place in the world championship of barbecue in Tennessee.
Myhrvold is also the author of Modernist Cuisine: The Art and Science of Cooking and Modernist Cuisine At Home, both published by The Cooking Lab. The cookbooks are based on cooking discoveries of Nathan Myhrvold and his team of scientists and development chefs.  Myhrvold and his team work in one of the most technologically advanced kitchens in the world, using tools such as water baths, homogenizers, centrifuges to discover, create and invent new ways of cooking.  He and his team also tend to use flavor-enhancing ingredients that are less common in the cooking world, such as hydrocolloids, emulsifiers and enzymes.  Nathan Myhrvold values his team very much and sets a great example by using his creativity and interpersonal skills.
Myhrvold's successful culinary career has earned him such television appearances as guest judge on Bravo's Top Chef alongside Celebrity Chef judges Tom Colicchio, Gail Simmons, and host Padma Lakshmi.
Cooking demonstrations, endorsements, personal appearances, PR campaigns, speaking engagements, hire, book, we represent, contact, find celebrities, chefs and agents for Nathan Myhrvold. If you want to find the representation, PR firm, marketing company, corporate consulting, speaking agent, to book or hire Nathan Myhrvold, Celebrity Chef Network is the agency of corporate consulting for your program. Our booking agents are the best in the business for consulting companies, agencies and universities in finding fees, availability and interest for celebrity chefs like Nathan Myhrvold for any type of event, appearance, speaking engagement, endorsement, corporate event, motivational speech, PR campaigns, etc. Call Celebrity Chef Network at 212-410-9879 or email booking@celebritychefnetwork.com.  Our booking agents are here to help you hire your Celebrity Chef now.