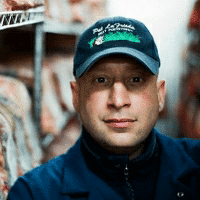 Pat LaFrieda
Does Virtual Events:
TV Show: Yes
Cookbook: No
Restaurant: No
Cuisine: American
Fee Range: $10,000 – $20,000

Instrgram Followers:

TikTok Followers:
Biography:
Hire Pat LaFrieda through Celebrity Chef Network. Booking a celebrity chef requires an expert team. Let the booking agents at Celebrity Chef Network help you hire the best one for your brand or event. To contact Celebrity Chef Network, call 212-410-9879 or email booking@celebritychefnetwork.com.
Patrick LaFrieda is a born and raised Brooklyn native. As a full-blooded Italian, whose great-great grandfather grew up in Italy working in a butcher shop, it was only by nature that Pat LaFrieda would come to own the butcher shop known as LaFrieda meats.
In the late 1980's, Pat began to learn the trade from his father, Pat Jr, at the young age of 12 years old. Pat disregarded warnings from his father about the time and effort that would be required as a butcher shop owner. It was certainly no secret that Pat Junior knew the ins and outs, as his father and his father before him had all been in the butcher industry.
In 2010, Pat LaFrieda III decided that the business had outgrown the space they had in Brooklyn and they moved the meat shop to North Bergen, NJ. Additionally, the name of the business was changed from LaFrieda Meats to Pat LaFrieda and Sons Meat Purveyors, which was certainly a much more suited name for the company.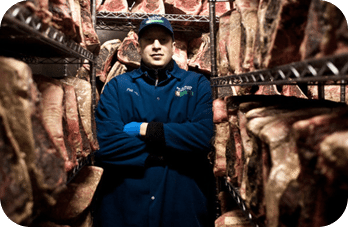 Today, LaFrieda and Sons Meat Purveyors provides high quality cuts of meat to thousands of restaurants, which serve more than 300,000 people on a daily basis. Pat's ability to create special custom blends of meat has been desired by restaurants around the country, and the business utilizes dry-aging rooms within the 36,000 square-foot meat house to make sure that customers get the highest quality of meats available.
You can hire Patrick LaFrieda for your business or restaurant to provide you with some of the finest quality meat available on the market. Pat LaFrieda and Sons Meat Purveyors provide more than 75,000 hamburgers to customers in the area, and all are part of the hundreds of custom blends that Pat has learned to create through learning what previous generations have taught him.
Pat LaFrieda's family has been in the business for 90 years now in the United States, and it's expected that both him and his sons will continue the tradition that all started back in a little town of Italy. Pat LaFrieda and Sons Meat Purveyors are ready to take your order for the freshest cuts and finest meats available on the market today.
To hire Pat LaFrieda for an endorsement, personal appearances, or book signing contact the experts at Celebrity Chef Network at booking@celebritychefnetwork.com  or 212-410-9879.