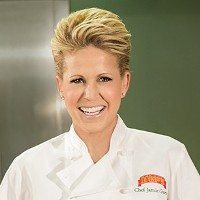 Jamie Gwen
Does Virtual Events:
TV Show: No
Cookbook: Yes
Restaurant: No
Cuisine: American, Healthy
Fee Range: $10,000 – $20,000

Instrgram Followers: 1,411

TikTok Followers:
Biography:
Lifestyle Expert, Radio Host and Celebrity Chef Jamie Gwen is best recognized as the winner of Alton Brown's Food Network cooking competition series Cutthroat Kitchen in 2013. Based in southern California, Jamie is also one of very few individuals in the world who has earned the title of certified sommelier. Jamie currently hosts her own syndicated radio show called Food & Wine with Chef Jamie Gwen. The show is broadcasted in over 23 states each week. When she's not filming her show or making TV appearances on daytime talk shows and news programs, Jamie travels the country providing Celebrity Chef cooking demos at trade shows and culinary expos. In October of 2015, Jamie was hired to provide 3 separate cooking demos at the Fort Wayne Newspapers SHE Expo in Indiana.
Celebrity Chef Jamie Gwen has taken her talents onto major TV programs including the popular CBS daytime talk show The Talk to share her seasonal favorites and signature recipes. She has perfected classic American cuisine with a health kick! In 2014, Jamie was invited onto the set of FOX's cooking competition series MasterChef as a guest judge alongside Celebrity Chefs Gordon Ramsay, Joe Bastianich and Graham Elliot. In addition to her many TV appearances, Celebrity Chef Jamie Gwen has published 4 cookbooks sharing her simple recipes and tips on hosting the perfect gathering.
Since her rise to fame, Celebrity Chef Jamie Gwen has partnered with major brands and retailers including Coca-Cola and Sam's Club to create promotional materials. She was also one of the many esteemed chefs to have their recipes featured on Microsoft's worldwide Food & Drink App that came standard on devices utilizing the Windows 8.1 program.
Contact Celebrity Chef Network today if you would like to hire Celebrity Chef Jamie Gwen to make an appearance or provide a cooking demo at your next conference, special event or fundraiser.