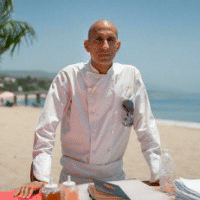 Jehangir Mehta
Does Virtual Events:
TV Show: Yes
Cookbook: Yes
Restaurant: Yes
Cuisine: Fusion
Fee Range: $10,000 – $20,000

Instrgram Followers:

TikTok Followers:
Biography:
Hire Jehangir Mehta through Celebrity Chef Network. Booking a celebrity chef requires an expert team. Let the booking agents at Celebrity Chef Network help you hire the best one for your brand or event. To contact Celebrity Chef Network, call 212-410-9879 or email booking@celebritychefnetwork.com.
SHOWS: The Next Iron Chef
BIO:  Jehangir Mehta began his career at L'Absinthe in New York City and from there moved on to Typhoon Brewery, working as the pastry chef to James Chew. After Typhoon, Jehangir went to Jean Georges and in 1998 Jean Georges Vongerichten selected Jehangir Mehta to open his new restaurant; Mercer Kitchen, which quickly became the place to eat in New York City.
The following year, he began working with Rocco di Spirito at Union Pacific then went and joined Didier Virot to open the highly acclaimed Virot. Unfortunately Virot didn't last long and Jehangir was on to his next venture to Compass, where he made creative and uniquely driven desserts.
In 2002 Jehangir Mehta joined forces with Didier Virot as the pastry chef at Aix, where he received high praise for his delicious pastry creations, while also teaming with Patricia Lo at Sapa and Michael  Simon at Parea. Jehangir opened his first restaurant, Graffiti in 2007 where he is currently the executive chef and owner. Jehangir is also the author of a HarperCollins cookbook Mantra: The Rules of Indulgence. Candy Camp is a cooking class that Jehangir offers at his restaurant for children 4-14 which he designed to build interest in more diverse foods. He also hosts executive in-home dinner parties and runs an event planning company.
 In 2010 his second restaurant was opened; Mehtaphor, in TriBeca.  Jehangir has appeared on Iron Chef America, The Next Iron Chef, the Martha Stewart Show, Dr. Oz and Fox News. He is available for cooking demonstrations, corporate endorsements and speaking engagements.
APPEARANCES: Iron Chef America, The Next Iron Chef, the Martha Stewart Show, Dr. Oz and Fox News
BOOKS: Mantra: The Rules of Indulgence
WHO REPRESENTS JEHANGIR MEHTA: Celebrity Chef Jehangir Mehta can be hired for endorsements and events in roles such as culinary consultant, event planner, public speaker, autograph signings, cooking demonstrations, hosting, Mommy Blogger events, SMTS, public relation campaigns, team building events and corporate hospitality.
To hire Jehangir Mehta for an endorsement, personal appearances, or book signing contact the experts at Celebrity Chef Network at booking@celebritychefnetwork.com  or 212-410-9879.