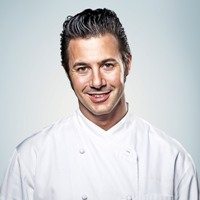 Johnny Iuzzini
Does Virtual Events:
TV Show: Yes
Cookbook: Yes
Restaurant: No
Cuisine: Desserts and Pastry
Fee Range: $10,000 – $20,000

Instrgram Followers:

TikTok Followers:
Biography:
Celebrity Chef Johnny Iuzzini has made a living having his cake and eating it too. As one of the top pastry chefs in the biz, he has worked under revered pastry chefs on his way to creating Sugar Fueled Inc., his own pastry consulting company. Celebrity Chef Johnny Iuzzini has been called upon to share his knowledge in the kitchen on TV programs such as Good Morning America, the Today Show, and various segments on The Food Network. Many foodies will recognize Johnny as the head judge from Top Chef: Just Desserts, the Bravo TV cooking competition series hosted by Gail Simmons. In 2015, Johnny was booked to provide cooking demonstrations and dessert treats at the 6th Annual Taste of Derby event in Louisville, Kentucky celebrating the arrival of the Kentucky Derby.
Johnny's love for pastries grew into more than a hobby after he graduated from the Culinary Institute of America in New York. He began working in Daniel Boulud's signature Manhattan eatery Daniel before moving to France to hone his skills at Laduree in Paris. He returned to the U.S. in 1998 to help Chef Boulud open Café Boulud and a new location of Daniel on 65th Street. A few years later Chef Jean Georges Vongerichten recruited the young talent to work at his signature restaurant, Restaurant Jean Georges. During his time there the restaurant earned a 3 Michelin Star review, one of only 4 restaurants in New York to receive this honor. In 2006, Celebrity Chef Johnny Iuzzini was showered with awards including the James Beard Foundation's Outstanding Pastry Chef of the Year Award and a nod from Forbes that touted him as one of the top 10 chefs in America.
Soon Johnny began recording his own recipes in his first signature cookbook called Dessert Fourplay: Sweet Quartets From A Four-Star Pastry Chef which was published in 2008. In the fall of 2014, Johnny published his second cookbook called Sugar Rush: Master Tips, Techniques, and Recipes for Sweet Baking.
Celebrity Chef Johnny Iuzzini is a popular pastry chef available to host events and cooking demonstrations at trade shows, conferences and food festivals among other Celebrity Chef appearances.