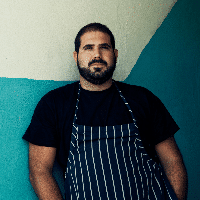 Jose Enrique
Does Virtual Events:
TV Show: No
Cookbook: No
Restaurant: Yes
Cuisine: Mexican
Fee Range: Under $10,000

Instrgram Followers:

TikTok Followers:
Biography:
Chef Jose Enrique has become a culinary pioneer with his creative take on Puerto Rican cuisine. A native of the Santurce district, Chef Jose returned to his hometown of San Juan, Puerto Rico in 2007 to open his self-titled restaurant Jose Enrique. Since opening his Jose Enrique in 2007, he has opened and owns a brasserie called Capital and also a coffeehouse, Miel. Chef Jose's accomplishments earned him a spot in Food & Wine Magazine's Best New Chef 2013 list alongside up and coming chefs Danny Bowien, Michael Voltaggio, and Jason Vincent. He also cooked his way into a semifinalist spot for The James Beard Foundation's top chef in the southern region. His latest venture is opening a restaurant in the modern El-Blok Hotel in Vieques.
The restaurant Capital is a reflection of Chef Jose's time spent in America at The Culinary Institute of America and his work in restaurants in New York, Florida and Louisiana. The French and creole inspired cuisine is evidence of Chef Jose's ability to intermix his culinary knowledge to create new dishes and flavors.
The flagship restaurant Jose Enrique features a Puerto Rican menu that is changed every day, and heavy laden with fresh local produce, ingredients with a loyalty to cocina criolla style. Its Art-Deco like building with local artist's work displayed on the walls as well as its hand-written menu each day bring a hominess to the building that reflects the working class market around the restaurant. Chef Jose makes a commitment to bringing his community creative and flavorful food options while remaining true to his roots in Puerto Rican culture.
Cooking demonstrations, endorsements, personal appearances, PR campaigns, speaking engagements, hire, book, we represent, contact, find celebrities, chefs and agents for Jose Enrique. If you want to find the representation, PR firm, marketing company, corporate consulting, speaking agent, to book or hire Jose Enrique, Celebrity Chef Network is the agency of corporate consulting for your program. Our booking agents are the best in the business for consulting companies, agencies and universities in finding fees, availability and interest for celebrity chefs like Jose Enrique for any type of event, appearance, speaking engagement, endorsement, corporate event, motivational speech, PR campaigns, etc. Call Celebrity Chef Network at 212-410-9879 or email booking@celebritychefnetwork.com.  Our booking agents are here to help you hire your Celebrity Chef now.