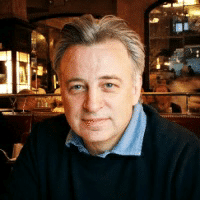 Keith McNally
Does Virtual Events:
TV Show: No
Cookbook: Yes
Restaurant: Yes
Cuisine: American, Classical French, Italian
Fee Range: $10,000 – $20,000

Instrgram Followers:

TikTok Followers:
Biography:
London born Keith McNally, also known as "the restaurateur who invented downtown", moved to the big apple in 1975 to pursue a career in the restaurant business. He began working in random jobs in various restaurants, as a busboy, oyster-shucker, waiter, maitre d' and eventually became the manager at the restaurant One Fifth. While McNally was fired from most of these jobs, and deemed lazy by his employers, he gained the experience needed to survive one of the most competitive culinary cities in the world, and quickly became one of the top restaurateurs in New York City.  In 1980 he opened the Odeon, a trendy eatery in Tribeca that infuses classic American, French, and Italian dishes.  Odeon quickly became a favorite of the locals and tourists, and with this success, McNally began expanding his restaurant empire. He went on to open restaurants Café Luxembourg, Nell's, Lucky Strike, and Pravda, a Russian caviar and vodka bar. The year 1997 brought McNally's most successful, and famous, restaurant Balthazar. The French brasserie restaurant, located in SoHo, became known as the hottest reservation in the city and maintained this title for several years after opening. The restaurant went on to be featured in popular novels such as The Associate by John Grisham and Something Borrowed by Emily Giffin, and films Hitch, with Will Smith, and Woody Allen's Hollywood Ending. The restaurant is also frequented with celebrities and is the site where comedian Jerry Seinfeld proposed to wife Jessica Sklar. In addition to the restaurant, Balthazar features a bakery, in which the orders and demand for the delicious French pastries became so high that McNally was forced to open a separate wholesale division of the bakery in New Jersey. After the uproar Balthazar's created across the nation, McNally opened its sister restaurant Pastis, which again became the height of the New York social scene, as it hosted Sarah Jessica Parker's baby shower, and Liv Tyler and Royston Langdon's wedding. Most recently, Keith McNally has opened the restaurant Cherche Midi, which follows the French trend set by Balthazar and Pastis.
In addition to the restaurant business, celebrity chef Keith McNally wrote a cookbook entitled The Bathazar cookbook, which contains some of the most coveted recipes from his famed restaurant.  He has also written and directed two feature films. One entitled End of the Night, which is a black and white independent melodrama, and the other, Eat this New York, which details the New York City restaurant business and features celebrity chefs such as Daniel Boulud.
Cooking demonstrations, endorsements, personal appearances, PR campaigns, speaking engagements, hire, book, we represent, contact, find celebrities, chefs and agents for Keith McNally. If you want to find the representation, PR firm, marketing company, corporate consulting, speaking agent, to book or hire Keith McNally, Celebrity Chef Network is the agency of corporate consulting for your program. Our booking agents are the best in the business for consulting companies, agencies and universities in finding fees, availability and interest for celebrity chefs like Keith McNally for any type of event, appearance, speaking engagement, endorsement, corporate event, motivational speech, PR campaigns, etc. Call Celebrity Chef Network at 212-410-9879 or email booking@celebritychefnetwork.com.  Our booking agents are here to help you hire your Celebrity Chef now.