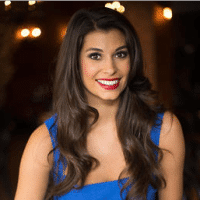 Kristin Sollenne
Does Virtual Events:
TV Show: Yes
Cookbook: Yes
Restaurant: No
Cuisine: Garden to Table, Healthy, Italian
Fee Range: $10,000 – $20,000

Instrgram Followers: 3,363

TikTok Followers:
Biography:
Celebrity Chef Kristin Sollenne is a New York-based Food Network judge, TV personality and nutritionist who continues to perfect the art of healthy Italian cuisine. Kristin embraces a healthy, nutritious approach to Italian food that places importance on farm-to-table and clean ingredients. In 2013, Celebrity Chef Kristin Sollenne was honored as one of Zagat's Top 30 under 30. The annual list honors the top celebrity chefs, bartenders and innovative culinary minds. Kristin is also well-known for her chic style in the kitchen and has developed her own line of couture kitchen aprons.
Kristin currently works with the New York City Restaurant Group (NYCRG) to oversee 4 Bocca di Bacco locations in NYC. At Bocca di Bacco, her menu contains healthy Italian cuisine centered around farm fresh vegetables, whole grains and lean proteins. She has been working with the NYCRG since 2008. In the past, Kristin has cooked for a number of celebrities including pop star Taylor Swift, Ed Sheeran and Seth Rogan.
In 2015, Celebrity Chef Kristin Sollenne released her first cookbook titled Domestic Chic: A Fashionably Fabulous Guide for Cooking & Entertaining By The Seasons. In it she shared favorite recipes and kitchen stories to inspire readers to entertain with a new sense of passion and flair! Kristin has gained notoriety in the industry after becoming a featured Celebrity Chef judge on several Food Network cooking shows including Beat Bobby Flay and Bill Rancic's Kitchen Casino. Kristin has already been chosen as a Celebrity Chef judge for the season finale of Worst Cooks in America in 2016. She also makes regular celebrity chef appearances on daily talk shows and news programs including NBC's Today show and Fox Business.
Your business or organization can hire Celebrity Chef Kristin Sollenne for cooking demonstrations, celebrity chef speaking engagements and other celebrity chef appearances.