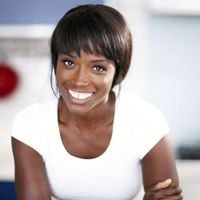 Lorraine Pascale
Does Virtual Events:
TV Show: Yes
Cookbook: Yes
Restaurant: No
Cuisine: Healthy
Fee Range: $10,000 – $20,000

Instrgram Followers:

TikTok Followers:
Biography:
Celebrity Chef Lorraine Pascale enjoyed a career in modeling with designers such as Chanel, Versace and Donna Karan before realizing her dream to share creativity with others through food. Lorraine was the first British African American model to appear on the cover of the American edition of Elle magazine. Modeling gave Lorraine a starting point in her career but she wanted to find something that would sustain her professional career once her modeling days were over. She spent her free time taking courses on various industries including car mechanics and interior design. She fell in love with the culinary arts during a year-long cooking course at Leith's School of Food & Wine.
Celebrity Chef Lorraine Pascale dove headfirst into the kitchen. Following her proper schooling, she began working in renowned eateries in the United Kingdom. She decided she wanted to create her own specialty cake company. She has since opened her own shop called Ella's Bakehouse in London. In 2011, Celebrity Chef Lorraine Pascale introduced her first TV cooking series on BBC called Baking Made Easy. She would appear as the host of two more programs on the network called Home Cooking Made Easy and A Last Minute Christmas. In 2012, she debuted a series called Fast, Fresh and Easy Food. Lorraine followed each of her BBC TV series with a signature book that detailed her tips, tricks and recipes from the show.
Lorraine is currently a featured judge on the Food Network series Spring Baking Championship with Nancy Fuller and Duff Goldman. In 2015, Celebrity Chef Lorraine was hired to host the BodyPower Kitchen event at the 2015 BodyPower Expo. She operates her own YouTube channel in which she shares videos that provide health and fitness tips for viewers.
Celebrity Chef Lorraine Pascale is quickly becoming one of the most beloved Food Network personalities on air with her wide smile and melodic British accent.