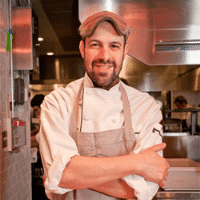 Louis DiBiccari
Does Virtual Events:
TV Show: No
Cookbook: No
Restaurant: Yes
Cuisine: Italian
Fee Range: Under $10,000

Instrgram Followers:

TikTok Followers:
Biography:
Louis DiBiccari is a young burgeoning chef and culinary artist whose burst his way onto the scene in Boston. Like many of the famous chefs of our time, Louis DiBiccari is a homegrown talent. Celebrity Chef Speaker Louis was first exposed to cooking from his Italian mother's distinct recipes.  Louis began experimenting with cooking during his time at Fitchburg State University in his apartment, and eventually decided to follow his budding passion and enroll in culinary school in Scottsdale, Arizona.  Needing to gain professional experience in the kitchen, DiBiccari's first position came in the kitchen of the famous chef Christopher Gross's restaurant Christopher's Bistro in Phoenix.
Louis decided to move back to Boston at this point, and pursue an internship opportunity with the Season's restaurant.  This helped jumpstart his career and landed him a position with Geoff Gardner at the Sel de la Terre.  He would spend 12 years there establishing himself as a definite player in the industry.  In 2008 he was named chef de cuisine at the Back Bay restaurant and was given full reign over the kitchen.  DiBiccari earned several awards for his work at the Back Bay including "Rising Star Chefs" by StarChefs.com.  Louis has also started a concept known as "Chef Louie Nights;" where guests vote on themes and ingredients on his website and on the morning of the event Louie and other participating chefs must scramble around the city for supplies and prepare the dishes on the spot.
In 2013 Louis opened his own restaurant, Tavern Road, in Boston with his brother Michael DiBiccari.  The restaurant has been a success, and it offers a distinctive menu filled with upscale bar-food options.  In addition to the sit-down restaurant, Louis has introduced a street cart with the Tavern Road name that offers select menu options on the street.  Louis DiBiccari has also developed an initiative called Create: six artists, six chefs, one canvas.  The idea is that a local Boston chef is paired with a local Boston artist and the goal is to collaborate create a dish that reflects on the artistic abilities of both the chef and artist.  The goal is to draw the relationship between culinary and visual arts with a unique perspective from the city of Boston.
Cooking demonstrations, endorsements, personal appearances, PR campaigns, speaking engagements, hire, book, we represent, contact, find celebrities, chefs and agents for Louis DiBiccari. If you want to find the representation, PR firm, marketing company, corporate consulting, speaking agent, to book or hire Louis DiBiccari, Celebrity Chef Network is the agency of corporate consulting for your program. Our booking agents are the best in the business for consulting companies, agencies and universities in finding fees, availability and interest for celebrity chefs like Louis DiBiccari for any type of event, appearance, speaking engagement, endorsement, corporate event, motivational speech, PR campaigns, etc. Call Celebrity Chef Network at 212-410-9879 or email booking@celebritychefnetwork.com.  Our booking agents are here to help you hire your Celebrity Chef now.