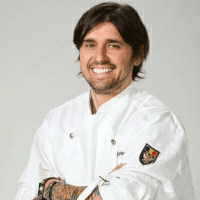 Ludo Lefebvre
Does Virtual Events:
TV Show: Yes
Cookbook: Yes
Restaurant: Yes
Cuisine: Classical French
Fee Range: $10,000 – $20,000

Instrgram Followers:

TikTok Followers:
Biography:
Ludo Lefebvre grew up in France, but the renowned chef has done his part to make a name for himself in the United States. The media and press can't seem to stop talking about him—the Los Angeles Times, Vanity Fair, and GQ, among others, have ranted and raved about his international flavor, hundreds of spices, and superb restaurants. Celebrity Speaker Ludo was nominated for the Rising Star Award from the James Beard Foundation in 2001, and since then the French chef has put himself up there with the best of the best—he is the only Los Angeles Chef to have received two Mobil Travel Guide Five Star Award for not one but two of his restaurants.
After getting his start as the executive chef of restaurants L'Orangerie and Bastide, which flourished under his spatula, Ludo catapulted himself onto the food scene with his revolutionary concept of Ludobites, a pop-up restaurant that travels to different venues in order to serve dinner, staying at each location for only a few weeks. The affordable yet satiating eating experience has not only been so popular that six weeks of reservations will fill up in less than a minute, but it also earned Ludo the title of "the king of pop-ups" from Bon Appetit. Ludo went on to open his first permanent restaurant Trois Mec with partners Jon Shook and Vinny Dotolo, and LudoBird, a fried chicken spot in the Staples Center. Ludo's success and presence on the frontier of a new type of dining experience has everyone ranting and raving and led to the opening of a new restaurant Petit Trois in 2014.
Ludo has authored two cookbooks, Crave: The Feast of the Five Senses in 2005 and LudoBites: Recipes and Stories from the Pop-Up Restaurants of Ludo Lefebvre, part success story part cookbook, in 2012. From challenging Mario Batali on Iron Chef America and guest judging on Hell's Kitchen, Ludo is no stranger to television, appearing on NPR, No Reservations, CNN Money, and The Today Show, among others. He is also a judge with Nigella Lawson, Anthony Bourdain, and Marcus Samuelsson on the Emmy-nominated show The Taste. The father of two resides with his family in California.
Cooking demonstrations, endorsements, personal appearances, PR campaigns, speaking engagements, hire, book, we represent, contact, find celebrities, chefs and agents for Ludo Lefebvre. If you want to find the representation, PR firm, marketing company, corporate consulting, speaking agent, to book or hire Ludo Lefebvre, Celebrity Chef Network is the agency of corporate consulting for your program. Our booking agents are the best in the business for consulting companies, agencies and universities in finding fees, availability and interest for celebrity chefs like Ludo Lefebvre for any type of event, appearance, speaking engagement, endorsement, corporate event, motivational speech, PR campaigns, etc. Call Celebrity Chef Network at 212-410-9879 or email booking@celebritychefnetwork.com.  Our booking agents are here to help you hire your Celebrity Chef now.