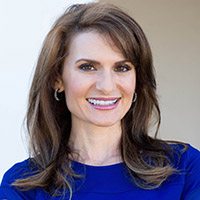 Michelle Dudash
Does Virtual Events:
TV Show: No
Cookbook: Yes
Restaurant: No
Cuisine: Healthy, Writer/Blogger
Fee Range: $10,000 – $20,000

Instrgram Followers: 964

TikTok Followers:
Biography:
Nutrition Speaker for hire Michelle Dudash is a registered dietician and nutritionist, celebrity chef, TV personality, cookbook author, and thought leader in the world of clean eating. As a working mother who's always on the go, Michelle has come to the aid of other working mothers by providing diet plans and nourishing recipes specifically designed for individuals living busy, active lifestyles. In January of 2016, Michelle introduced her own online program called Clean Eating Cooking School: Monthly Meal Plans Made Simple.
Michelle studied dietetics at the University of Wisconsin-Madison and graduated from Le Cordon Bleu College of Culinary Arts just a few years later. She worked in foodservice management for Common Group, USA as well as working as a private chef with her recipes being featured at a number of A-list celebrity events. As her culinary knowledge grew, so did her desire to help others cook like a celebrity chef and eat like a nutritionist.
Outside of her own kitchen, Michelle has worked as a consultant for several industry leading companies and campaigns including Chobani, the California Avocado Commission, the national MilkLife campaign, Beech-Nut, KIND Healthy Snacks, and Wonderful Pistachios. Her articles on clean eating have appeared in SELF, Shape, Parents and Better Homes & Gardens magazines and she writes regular columns for Food Network's Healthy Eats blog.
Would your organization like to hire Michelle Dudash for your upcoming event or marketing campaign? Let a qualified celebrity chef booking agent help find the perfect celebrity chef speaker for you! A celebrity chef speaker can create a dynamic event and add energy and excitement to your event. Celebrity chef appearances can consist of a cooking demonstration, personal appearances or a keynote speech. If you would like to hire Michelle Dudash or are interested in exploring other celebrity chefs please call Celebrity Chef Network at 212-410-9879 or email booking@celebritychefnetwork.com to speak with a celebrity chef agent to discuss top celebrity chefs available for your organization and event.