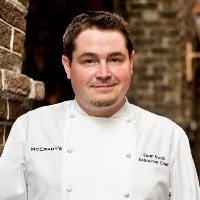 Sean Brock
Does Virtual Events:
TV Show: No
Cookbook: Yes
Restaurant: Yes
Cuisine: American, Garden to Table, Southern
Fee Range: $10,000 – $20,000

Instrgram Followers: 60,200

TikTok Followers:
Biography:
Nobody does tasty southern classics quite like Celebrity Chef Speaker Sean Brock! Sean plants his culinary roots in the garden where he learned the importance of growing and preserving your own ingredients growing up with his family in rural Virginia. Today he owns and operates Husk, a popular restaurant specializing in southern style cuisine with locations in Charleston, South Carolina and Nashville, Tennessee. Sean has built his own 2.5 acre farm on Wadmalaw Island in South Carolina where he grows all his ingredients and has even began raising his own livestock. As an ode to deeply rooted southern food traditions, Sean has taken it upon himself to help preserve and restore heirloom ingredients such as flint corn, benne seed and rice peas.
Celebrity Chef Sean first burst onto the culinary scene in 2008 when he was nominated for the James Beard Award for Rising Star Chef. 2 years later he took home the James Beard Award for Best Chef Southeast. He has since been chosen a finalist for James Beard's Outstanding Chef award every year since 2013. Sean now co-owns and operates 4 restaurants including the 2 Husk locations, McCrady's Restaurant and Minero both located in Charleston.
Sean has made celebrity chef appearances on several major culinary TV series. In 2010, he competed against Celebrity Chef Michael Symon in an episode of Food Network's Iron Chef America and was the host of season 2 of Anthony Bourdain's PBS series The Mind of a Chef. Celebrity Chef Speaker Sean Brock was a huge hit and was nominated for a Daytime Emmy Award for Outstanding Culinary Host.
In October of 2014, Celebrity Chef Speaker Sean Brock detailed his ideas on food and cooking in a New York Times bestselling cookbook titled Heritage. The book earned Sean a 2015 James Beard Award in the American Cooking genre. He is currently working on his second cookbook, Husk, which will focus on recipes from Sean's flagship restaurant.
Contact Celebrity Chef Network today to hire Celebrity Chef Speaker Sean Brock for an upcoming cooking demo or celebrity chef appearance.