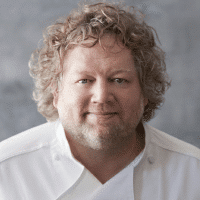 Tom Douglas
Does Virtual Events:
TV Show: No
Cookbook: Yes
Restaurant: Yes
Cuisine: American
Fee Range: $10,000 – $20,000

Instrgram Followers:

TikTok Followers:
Biography:
Celebrity chef, Tom Douglas, is a renowned chef, restaurateur, author, and radio talk show host. However, it took Douglas a while to find his niche in the culinary business. Tom moved to Seattle, his current city of residence, in 1977 and began working jobs in a variety of fields including general construction and railroad car mechanic.  Never having attended culinary school, Douglas developed natural talent by traveling and eating at various world-class restaurants throughout the world.  He began working his first restaurant job in Seattle in 1984 at Café Sport. Five years later, in 1989, he took a chance, and opened his first restaurant, the Dahlia Lounge. The Dahlia Lounge became an instant hit in the Pacific Northwest, and by 1994 the James Beard Foundation had declared him the best chef in the Northwest. To compliment the Dahlia Lounge, he opened the Dahlia bakery, which, to no one's surprise, was also a hit in the Northwest.  Douglas and his wife Jackie Cross, who is also his business partner, went on to open Etta's seafood, named after their daughter Loretta, and the Palace Kitchen, which went on to be nominated for a James Beard Award as one of the best new restaurants in the United States.  Continuing his success in the restaurant business, he opened Lola's, which offers Greek-inspired cuisine, and his own local chain of pizzerias called Serious Pie.
Tom Douglas' other accolades include a James Beard Award for best restaurateur, and a James Beard award for his cookbook entitled Tom Douglas' Seattle Kitchen. This same cookbook also won the Best American Cookbook Award from KitchenAid.  As if one successful cookbook wasn't enough, Chef Douglas has authored three additional cookbooks: Tom's Big Dinners: Big-Time Home Cooking for Family and Friends, I Love Crab Cakes! 50 Recipes for an American Classic, and The Dahlia Bakery Cookbook.  Tom is also very active in the media, as he has made television appearances on some of the most popular culinary shows including Emeril Live, Iron Chef America, Martha Stewart, Giada De Laurentiis, Good Morning America, Top Chef, and Simply Ming.  Additionally, he co-hosts a weekly food radio show with his long time foodie friend, Thierry Rautureau, entitled in the Kitchen with Tom and Thierry. Chef Douglas' most recent endeavor, however, has been opening a half-million dollar culinary school called Hot Stove, in which students can learn the chef's secrets and tricks of the trade.
Cooking demonstrations, endorsements, personal appearances, PR campaigns, speaking engagements, hire, book, we represent, contact, find celebrities, chefs and agents for Tom Douglas. If you want to find the representation, PR firm, marketing company, corporate consulting, speaking agent, to book or hire Tom Douglas, Celebrity Chef Network is the agency of corporate consulting for your program. Our booking agents are the best in the business for consulting companies, agencies and universities in finding fees, availability and interest for celebrity chefs like Tom Douglas for any type of event, appearance, speaking engagement, endorsement, corporate event, motivational speech, PR campaigns, etc. Call Celebrity Chef Network at 212-410-9879 or email booking@celebritychefnetwork.com.  Our booking agents are here to help you hire your Celebrity Chef now.