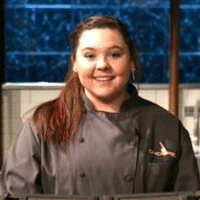 Tommi Rae Fowler
Does Virtual Events:
TV Show: No
Cookbook: No
Restaurant: No
Cuisine: Southern
Fee Range: $10,000 – $20,000

Instrgram Followers:

TikTok Followers:
Biography:
As the cooking craze has increased its profile in the current pop culture market, it has spurned a new generation of food-loving future chefs.  One of these new stars is the rising teen cooking talent, Tommi Rae Fowler.  Born and raised in South Carolina, Fowler has grown up with hearty Southern food and tradition, which she claims is her signature cooking style.
Celebrity Chef Tommi Rae was basically born in the kitchen with her culinary roots dating back to her grandmother's restaurant.  In the summer of 2014, Tommi Rae was chosen to compete in Food Network's Chopped: Teen Challenge.  After multiple rounds of competition against some of the other top teen chefs in America, Tommi was able to come out on top and won the competition.  Fowler was the first ever winner of the challenge that just ended its inaugural year of competition.  At just the tender age of sixteen, Fowler was still a middling high school student at the time of the show's airing.  She's reached a new level of success in her short career in terms of local publicity.  Since appearing on Chopped, Tommi has appeared on variety of local television and radio shows in her home state of South Carolina.  A few years prior to her entry into the competition Fowler had to deal with a tragedy of her own.  While cooking in her family's home, she accidently sent the house on ablaze resulting in a catastrophic fire that caused the family to lose almost everything they had.  Initially Tommi thought she never wanted to cook again because the cloud that cooking had cast over her family's life.  But ultimately she decided that mastering the art that had caused her so much hardship was the goal that she need to work towards.
Cooking demonstrations, endorsements, personal appearances, PR campaigns, speaking engagements, hire, book, we represent, contact, find celebrities, chefs and agents for Tommi Rae Fowler. If you want to find the representation, PR firm, marketing company, corporate consulting, speaking agent, to book or hire Tommi Rae Fowler, Celebrity Chef Network is the agency of corporate consulting for your program. Our booking agents are the best in the business for consulting companies, agencies and universities in finding fees, availability and interest for celebrity chefs like Tommi Rae Fowler for any type of event, appearance, speaking engagement, endorsement, corporate event, motivational speech, PR campaigns, etc. Call Celebrity Chef Network at 212-410-9879 or email booking@celebritychefnetwork.com.  Our booking agents are here to help you hire your Celebrity Chef now.