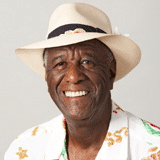 Wally Famous Amos
Does Virtual Events:
TV Show: No
Cookbook: Yes
Restaurant: No
Cuisine: Desserts and Pastry
Fee Range: $50,000 – $100,000

Instrgram Followers:

TikTok Followers:
Biography:
Wally Famous Amos is an icon who has been in the public eye for over 30 years. He is the world-renowned for being the Father of the gourmet chocolate chip cookie industry and the founder of the popular cookie brand, Famous Amos Cookies.
After getting such popularity, Amos introduced his new venture named Chip & Cookie, which is the only brand that sells products made from the original Wally Amos recipes. He also expanded his baking products to include home-made muffins and founded the brand "Uncle Wally's".
Wally Amos is the author of ten books, including The Famous Amos Story: The Face That Launched a Thousand Chips and The Cookie Never Crumbles: Inspirational Recipes for Everyday Living, which combine his love for baking and inspirational messages from his past. He also works as a literary advocate and serves many boards of organizations. Being the board of members of the National center for Family Literacy and communities in school, Amos holds the position of recognized literary advocate. Amos is also awarded with the President's Award for Entrepreneurial Excellence, the Horatio Alger Award and Outstanding business leader award.
Amos' fame has earned him opportunities to appear in popular television shows as well, including a cameo as himself on NBC's hit sitcom, The Office, in 2012 which stars celebrity actors Steve Carell, Ed Helms, and John Krasinski.
Cooking demonstrations, endorsements, personal appearances, PR campaigns, speaking engagements, hire, book, we represent, contact, find celebrities, chefs and agents for Wally Famous Amos. If you want to find the representation, PR firm, marketing company, corporate consulting, speaking agent, to book or hire Wally Famous Amos, Celebrity Chef Network is the agency of corporate consulting for your program. Our booking agents are the best in the business for consulting companies, agencies and universities in finding fees, availability and interest for celebrity chefs like Wally Famous Amos for any type of event, appearance, speaking engagement, endorsement, corporate event, motivational speech, PR campaigns, etc. Call Celebrity Chef Network at 212-410-9879 or email booking@celebritychefnetwork.com. Our booking agents are here to help you hire your Celebrity Chef now.