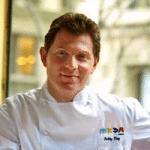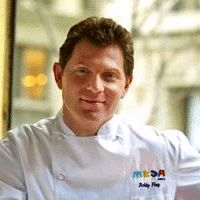 Bobby Flay: When you're working in an industry where everyone is growing up trying to be the next you, you might have the tendency to sit back and enjoy the view. Superchef Bobby Flay on the other hand refuses to slow down and that type of drive is what has made him and other industry leaders such as Emeril Lagasse, Gordon Ramsay and Guy Fieri such successful celebrity chefs and food personalities. Bobby's latest endeavors will be 2 new Food Network series titled Bobby's Grilling Guide and Bobby Flay Fit. Now while you can obviously tell where he's going with the first show, Bobby Flay Fit will introduce a new type of series to the network as he shares his workout and food tips that have helped him stay fit in a world full of delectable eats.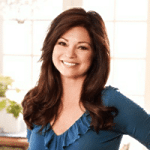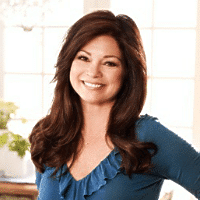 Valerie Bertinelli: America is familiar with the lovable Valerie Bertinelli from her previous acting spots in primetime sitcoms or from her bestselling memoirs and published cookbook of family recipes. Valerie's latest dish will be served on TV as the actress and food personality is set to combine her life's passions into one in the form of a new show on the Food Network titled The Valerie Bertinelli Project. The highly anticipated show will center around the former Jenny Craig spokesperson and her husband who will be sharing family recipes with friends and celebrity neighbors.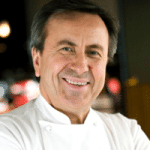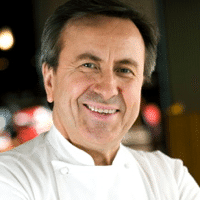 Daniel Boulud: The bubbly flowed a little heavier in Las Vegas this weekend as over 35 of the culinary world's best chefs descended on Sin City for the 8th Annual Vegas Uncork'd Event hosted by Bon Appétit magazine. Known as one of the year's most anticipated foodie events, what an honor it was for esteemed chef Daniel Boulud who ceremoniously uncork'd the first bottle of the weekend after his new Vegas restaurant and its dishes have wowed tourists at the new location in the Venetian. I'd say the celebrity chef is settling in quite well in his new digs at the famed Vegas resort and food mecca.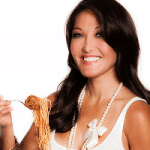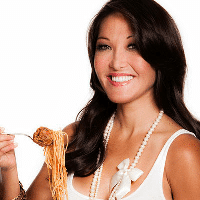 Candice Kumai: As a contributing editor for Shape and Men's Fitness magazine and the author of 2 fit cookbooks, Candice has been responsible for teaching and inspiring many men and women to live a healthier life. Now the healthy eating guru is back with a new book of tricks called Clean Green Drinks that provides her fans with over 100 healthy and balanced drink recipes she utilizes to shed pounds and keep them off. Candice is always looking for better ways to live a clean, healthy lifestyle and she offers a new and tasty option to the latest trend of green health drinks.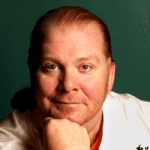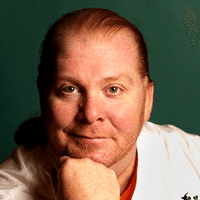 Mario Batali: We knew Mario Batali wasn't going to miss out on all the fun in Vegas! The Iron Chef broke out his signature shorts and Crocs look to join TLC's Cake Boss Buddy Valastro and 2 culinary students from Le Cordon Bleu in the 2nd annual live Chase Sapphire Preferred Grill Challenge as a part of the Vegas Uncork'd weekend event. Mario and his partner Brooke Worley took home the win in a close battle of fine Asian-inspired cuisine and Brooke earned a $20,000 scholarship towards her studies!
Debi Mazar: This actress turned host of the Cooking Channel show Extra Virgin and her husband Gabriele Corcos have become today's leading voice in contemporary Tuscan cuisine. The duo recently recorded their favorite Tuscan recipes in a new cookbook titled Extra Virgin: Recipes and Love from our Tuscan Kitchen. This brazen New York City girl and her Italian husband sure do know good eats and the cookbook kicks off what is sure to be a whirlwind of a next 2 years for the actress and foodie as she is set to reprise her role as Shauna in the big screen adaptation of the hit HBO series Entourage.
Eddie Huang: We think it's probably safe to say there is no other restaurateur and foodie who is changing the face of the industry like BaoHaus owner Eddie Huang. Eddie and his restaurant are like the skinny jeans of the restaurant world, becoming more popular by the day and hip to pop culture's latest trends. His Taiwanese bun shop, serenaded by the best tunes from old and new school hip-hop, has now grown from a menu with less than 5 items into a popular New York eatery. Now Eddie is set to further break the mold for TV food personalities this summer as he debuts his new food competition show Snackdown not on Food Network as one would expect, but rather on MTV. This is the first show on MTV of this nature and we know the cultured Eddie Huang is the perfect man for the job!
Curtis Stone: Curtis Stone is enjoying his new life as a restaurateur after opening his first restaurant Maude in February, and his wife's recent photo of Curtis and his toddler son making homemade pizza nearly crashed the internet with cuteness. Now the Top Chef Masters host has just announced that he and wife and actress Lindsey Price are expecting their second child! Luckily for Lindsey, we know Curtis will have the perfect recipe for any number of pregnancy cravings that could arise in the next few months.
John Besh: John was tossed into the mix of celebrity chefs and TV food personalities after his runner-up finish to Michael Symon in season 1 of Food Network's Next Iron Chef competition. Now he and fellow celebrity chef Tiffany Derry have joined forces with bar and nightclub guru Jon Taffer to create an exciting new series called Hungry Investors that airs weekly on Spike TV. Each show the trio is tasked to chose who to invest in between two establishments in dire need of their financial and culinary help. Combining the exciting elements of a rescue show and a cooking show, John and his counterparts are seamlessly intermingling the worlds of reality TV and the culinary arts.
Ina Garten: Following the recent success of the latest cookbook from the Barefoot Contessa, the James Beard Award Foundation honored Ina as this year's Outstanding Host for her Barefoot Contessa cooking series on the Food Network. It appears the critics and the public just can't seem to get enough of Ina's recipes whether she's penning them in her cookbook or cooking them live on TV! As a part of a network that features in-kitchen cooking demo shows from the likes of Giada De Laurentiis and Rachael Ray, this award serves as proof that Ina remains one of TV's most popular celebrity chef personalities.
If you are interested in booking any of our Top 10 Celebrity Chefs or to hire a celebrity chef for cooking demonstrations, endorsements, appearances, and more, please contact Celebrity Chef Network today by completing our contact form or emailing us at booking@celebritychefnetwork.com.