At NYCWFF, the top Celebrity Chefs from around the country will treat New York City to a 3-day smorgasbord of fine food and drinks to help end the fight against hunger!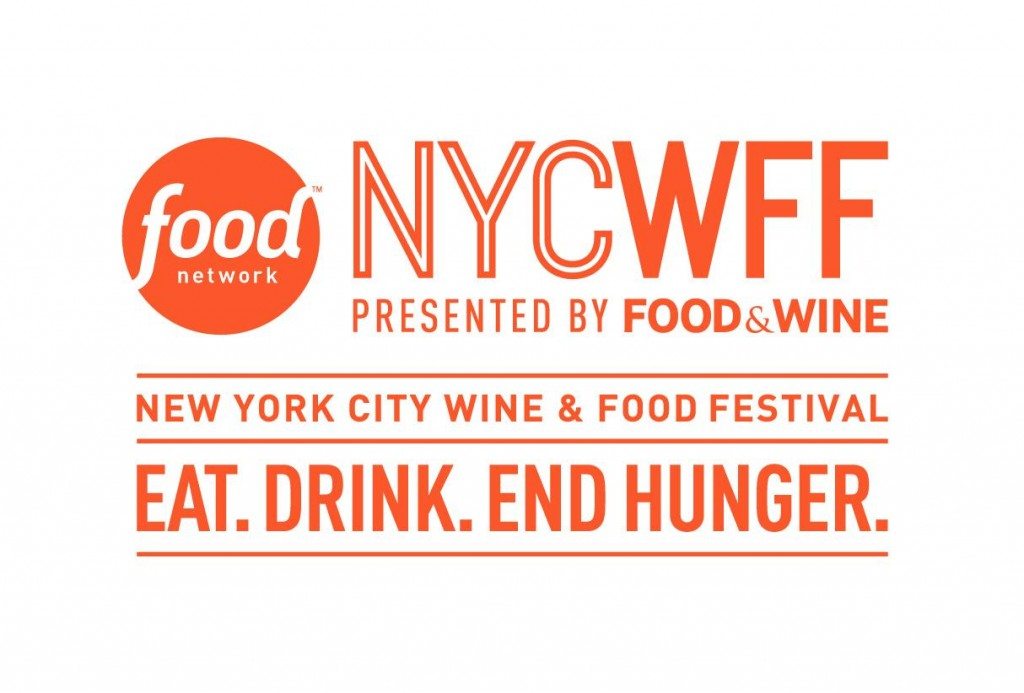 New York City boasts one of the richest culinary scenes in America thanks to its top shelf cheesecakes, iconic pizza style and flavory pastrami. Every October the city comes alive for a grand culinary event with one mission: Eat, drink, and end hunger. From October 15-18, the New York City Wine and Food Festival hosts a grocery list of top celebrity chefs, mixologists and familiar TV personalities for a variety of cooking demonstrations and celebrity chef speaking events to benefit the NYC Food Bank and the No Kid Hungry Campaign.
Both the Travel Channel and USA Today have tapped the NYCWFF as one of the top food festivals in the U.S. each year. Close to 100 grand tastings, cooking demos, celebrity chef speaking engagements and other fun events are packed in to these 4 special days in the fall. This is an opportunity for familiar celebrity chefs to have a little fun and mingle with their biggest fans.
Many of the Food Network and Cooking Channel personalities making celebrity chef appearances at this annual festival are available for hire for other special events during the year. If you are interested in booking a celebrity chef to appear at your upcoming event, contact us today! Celebrity Chef Network has experience in booking celebrity chefs for corporate events, celebrity chef speaking engagements and many other celebrity chef appearances. We have great taste when it comes to pairing the right celebrity chef personality with the budget and goals of your unique event!
Below is a breakdown of highlighted events taking place at the 2015 NYCWFF:
Thursday
Celebrity Chef Lidia Bastianich is set to host a classic Italian feast at her flagship NY eatery Felidia. This intimate dinner event celebrating her storied restaurant which first opened in 1981. A special celebrity chef cooking demonstration and dinner event with chefs April Bloomfield and Amanda Cohen will showcase how vegetables can be the star in every meal. Bloomfield is 1 of 10 female chefs in the United States to earn a Michelin star and released a new cookbook in April called, A Girl and Her Greens: Hearty Meals from the Garden.
James Beard Award winning chefs Ashley Christensen and Gabrielle Hamilton are hosting a little wine and dine party of their own Thursday night. A splash of Ashley's southern charm with Gabrielle's classical French techniques will be sweet harmony on a plate. The king of Mexican cuisine Aaron Sanchez will close out the first day hosting a late night tango with tacos and tequila!
Friday
Guests will sink their teeth into one of NYCWFF's biggest events each year, the 8th Annual Blue Moon Burger Bash hosted by Rachael Ray. Attendees will watch the best chefs in America battle to create the best burger. Later in the evening, Alain Ducasse will be preparing his own celebration of French bistro at his Midtown Manhattan restaurant Benoit. Guests will be forced to choose between an intimate dinner with Alain or a dinner party with Carla Hall and Pierre Thiam. Carla Hall is a featured host on The Chew and recently funded her own signature restaurant with help from a Kickstarter campaign. Iron Chef Masaharu Morimoto is ready to rock the house with his Rock and Roll Sushi party starting at 10 PM. Another late night adventure is for the sweet tooths in the house hosted by Dominique Ansel. The creator of the Cronut is setting the table at this Sweet Masquerade with decadent desserts complimented by champagne and cocktails.
Saturday
Saturday is jam-packed with grand tastings and cooking demonstrations beginning at brunch. Celebrity Chef Martha Stewart is hosted her own Rose Brunch while TV star turned kitchen diva Tiffani Thiessen oversees the Stacked: Sandwich and Sides competition. Now for many in NYC, the highlight of the weekend will be The Ultimate Tailgate with Jets legend Joe Namath and Mario Batali. Celebrity Chef Mario is a die-hard Jets fan ready to deliver his take on tailgate classics. Ribs, wings, you name it!
Attendees will most likely divide their time between the tailgate and the Grand Tasting extravaganza going on from 12 PM to 6 PM. This 130,000 square foot expo will feature cooking demonstrations and celebrity chef speaking events from famous Food Network and Cooking Channel personalities. Celebrity Chef John Besh will bring the taste of the bayou with him up north when he hosts the Besh Big Easy pairing seminar in the afternoon. He will walk guests through his favorite New Orleans classics paired with cocktails served by Food Network wine expert Mark Oldman. The main event of the evening is Robert Irvine's Pigs n' Pints party. Attendees will fill up on palatable pork dishes and craft cocktails.
Sunday
The festival's final day will leave attendees begging for more! Guest can expect celebrity chef appearances at seminars and cooking demonstrations from the likes of Anne Burrell at her Oyster Bash and the cast of Chopped hosting their own Bloody Mary Brunch. Masaharu Morimoto will be back Sunday afternoon for a hands-on class showing guests how to perfect the art of the sushi roll. In the evening, beloved TV Host Ted Allen will close the festival with a craft cocktail party at Bagatelle. They say variety is the spice of life and the NYCWFF will provide a little bit of something for everyone!
Contact Celebrity Chef Network at booking@celebritychefnetwork.com or call (212)410-9879 to hire top celebrity chefs for your upcoming event!